Violet
July 2, 2014
"Sometimes I pretend I'm a butterfly. Butterflies are so gentle, very kind." Those words were the last thing Violet had spoken to me. The last two sentences her beautiful lips would ever articulate. The last scramble of words that had any meaning left in this world.
Violet, that sweet five year old girl I loved with my entire being, strength, and heart, was gone. She was gone.
A tear falls onto the dry bench I'm sitting on, in the exact spot I knew Violet would have chosen to sit, clinging onto my arm like a little flower. "You're my favorite big brother," she could have said.
"I'm your only big brother," I would have replied, dropping my hand onto her head to ruffle the golden strands into a mess. Her eyes were so beautiful...blue almost purple. like twilight.
No. It hurts too much to think about it. Even now, three months after her death.
I feel an urge to scream, to cry, to never be happy again. I want someone else to hurt like this, misery is such a lonesome condition.
Violet was my little sister, and for some sick and twisted reason, the doctors couldn't save her.
No, they wouldn't save her.
Violet had been on the organ list a long while, waiting patiently and sympathetically for a new heart, and just because she was a little different, had a disease, they wouldn't give her one.
I slam my head against a tree. Why didn't they love her like I did?
I sink down to my knees, into the insect ridden dirt below and let the flow of tears burst forth.
I sit like that a while, moaning loudly, knowing no one would hear. After about two hours my flood of tears dries, up and I'm left with my angry thoughts that burn in the back of my mind.
And then I see a butterfly. At first I want to crush it, kill it like the inside of my soul. And then I think of Violet.
"...So gentle, so kind."
I feel like a little kid, sneaking up on the butterfly, hoping it won't fly away. And it doesn't; it flutters gracefully down onto a little rosebud, it's blue-purple wings blinking sweetly in the soft spring air. The wings are so beautiful, I just want to touch them, they look so much like Violet's Iris'.
But I don't. I know it will only shorten its already miniscule lifespan, and after Violet's death, I don't think I'll ever be able to kill anything again.
The insect starts to fly off, and I find myself saying,
"No, please Violet, don't go!" And sob in anguish as it surpasses my reach. I stumble down into the garden and start weeping again, uncontrollably and tired.
I lay my head down amongst a patch of wild flowers. and find myself face to face with the butterfly.
"Sometimes I pretend I'm a butterfly. Butterflies are so gentle, very kind." Yes Violet.
"And much too beautiful and delicate for this cruel world."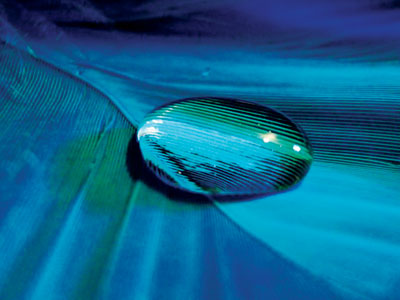 © Hui Y., Potsdam, NY