My Valentine
January 27, 2015
Be my Valentine

The words that I long to hear most in the world. But I don't think I ever will. Most of my friends are already dating, or at least have their eyes on someone. But not me.

Why do I push people away? I wonder to myself.
Why can't I be a normal high-schooled teen?

But I'm not. I don't think I've had even one experience in high school that can be considered normal. Heck, I didn't even go to prom last year. I didn't get asked (not that I ever planned on that) and didn't want to be around a bunch of lovey-dovey couples anyway. "So not the drama" as Kim Possible would put it. Anyway, this year, I'm at least going to prom (because my family is making me go). Now it's almost February, and all the stores have left Christmas in the dust to prepare for the next big thing of the year. To be honest, it kind of disgusts me to see all those hearts, chocolates, and 'I love you' bears. It's a great holiday… if you're seeing someone. If not, well, you're out of luck, along with the rest of us 'singles.' You get to watch as girls gush over their new teddy bears, and guys stuff their faces with chocolate. Ugh. This is such a stupid holiday. No matter how many times I tell myself that, though, there's always a tiny fragment of my heart that longs for one of those atrocious bears. For someone's tender, chocolatey kiss to pierce my lips.

Be my Valentine

The days are ending quickly and that day is coming way too fast. Maybe I'll at least get a card from a secret admirer. Yeah, right. As if. That will never happen.

Be my Valentine

My hands shake as I reach out for the card. It can't be for me. It must be for my locker buddy, right? But no. My name is there, in big, glittering letters, surrounded by hearts. Probably a prank, I tell myself as my fingers close around the paper. It's beautiful. I can't help but stare at it. This can't be for me. It's homemade. Every piece is placed tediously exactly where it should be. It's so perfect. I slowly open the card with trembling hands. My heart is racing. Could it be from him? No, he hardly notices me. He wouldn't take the time to make this for me. I close my eyes tightly. I can't look. What if it's just a joke? But what if it's not? I grit my teeth and open my eyes. I look at the words… and the signature. I smile.

Be my Valentine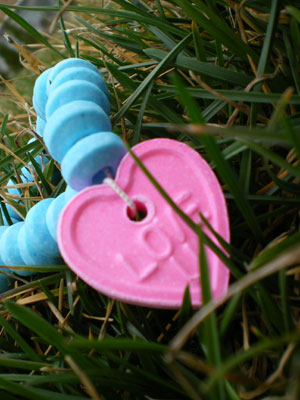 © Jennae P., Kennewick, WA