Under Over
April 6, 2015
She reached out, her hands trembling as she mentally replayed the events of the day. Her hands touched her own silky, soft hair and pulled out the hair tie the held her left braid in place. She slowly undid the braid
under, over, under, over.
So routine, most people never even thought about it.
She thought of how she had placed that braid there that morning--Had it really only been that morning?-- without a care in the world. She didn't know then that her world as she knew it was about to come to an earth-shattering halt.
under, over, under, over
her hands reached for the second hair tie on the left side, which had held her hair in a ponytail while she braided the other side. How had things changed so much? She reached over and begun monotonously undoing her right braid
under, over, under, over
As she pulled out the final hair tie, she let all her hair fall loose, shaking her head slightly to smooth it. Her hair fell in waves from having the braids in all day. She suddenly sobbed as she caught a glimpse of herself in the mirror. People had always said she looked just like her mom. She had never seen it. Until today.
In and out, in and out
She forced herself to look back into the mirror. Her eyes were tear-stained, and there were dark circles under them. She couldn't help but think of the mirror she had looked into that morning. She had seen those eyes, but they were her mom's, looking at her through the rear view mirror.
In and out, in and out
They had weaved through traffic, faster than they knew they should have been. She had yelled at her mom to go even faster, because they were late. Her mother obeyed.
In and out, in and out
She thought of dance class as she began to unbutton her jacket. Stupid dance class. It ruined her life forever. It was all her fault.
In and out, in and-- CRASH!
The car had become a hunk of metal. The officers said she was lucky to be alive, that the force should have killed her. She tried to say they needed to get her mom, but they just frowned at her and placed her in the back of the ambulance. She undid the last of her buttons and finished taking off her clothes. She shivered, putting on her pajamas as fast as possible. She stared into the mirror. Her mother stared back. She reached up and touched her soft hair again, looking in the mirror all the while. She grabbed a hair brush got to work. She brushed and brushed, tears clinging to her hair as she continued. She began to re-braid her hair, before crawling into her empty bed.
Over, under, over, under
She cried herself to sleep.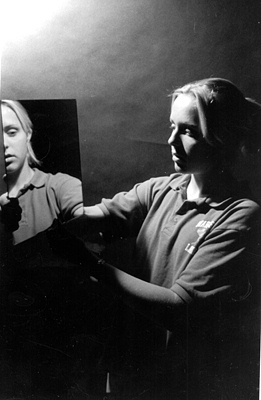 © Hadley B., Marblehead, MA