Cold Coffee
MAG
May 6, 2015
"Whoa, hey, get your own coffee, dude. I need the caffeine just as much as you."
Gosh, some people are so invasive. I'm not sure my eyes could roll back any further.
I'm sitting alone in a classic, faded red-and-white '50s-style diner simply because I don't know what else to do. The same waiter I always see, the one with Asperger's, just tried to sip my coffee like he does every day. Today, I just don't feel like that is necessary. I'm worn out, and he can get his own coffee if he wants it so dang badly.
A lot of people think it's weird how I treat everyone equally. Probably because I treat everyone badly, equally badly. I feel like the world isn't a place for patience. We all have too much of our own junk to get done, and we don't need to get in the way of other people and their junk.
Other people think I'm a misanthrope. Fine, I'll accept that, but it's simply because nobody lives up to their potential. Like the waiter with Asperger's. That guy could be a millionaire, but he's a waiter at a classic, faded red-and-white '50s-style diner.
Now, I'm not saying that it's necessarily his fault that he's stuck serving me and a bunch of other hobos cold coffee. Maybe other people sat on that guy's self-esteem 'til he felt he couldn't ever inflate again. That's the world's fault then. We need to stop ruining people.
I conclude that people ruin others because they are ruined themselves. What I say is true; I've seen it through cracked lenses. There were many long nights of having an abusive father and a mother who couldn't fight back. My father was a really messed-up kind of guy, and the selfish human nature that encompasses us all just took a special liking to him. He wanted his wife to be on his level, and he wasn't willing to take the trip up. She had to come down with him.
Forget about my parents, you know. I try to. They've been gone long enough that the blood stains on my palms should be clean by now, right? But they're really not, and as a result, here I sit drinking cold coffee at a classic, faded red-and-white '50s-style diner.
I've been so tired lately. It's really getting to me, you know. I'm irritated, as well. I'm finding little things bother me that didn't before. Like the waiter sipping my daily coffee.
Gosh, people are so invasive.
I wish people had reached out to me. I wish they would now.
These are the things I think about when my lips stall shut before the cold coffee can touch my tongue. If I want someone to reach out to me, I have to stick my hand out first. I slowly place the mug on the table and stare at the waiter.
His eyes meet mine, and he pads over, asking for my order, even though I already received my drink.
I do not reply. Instead, I motion him to sit, and with a flick of my wrist I send the sugared-up cold coffee sliding to his side of the table.
The waiter looks at me, his eyes asking for permission like a child. I nod, gesturing toward the mug. He lifts it to his lips and lets the liquid grace his mouth, a few drops slipping down his chin.
He puts the mug on the table and sits up a little bit straighter, looking me in the eye.
"Gosh, people are so inviting," he whispers.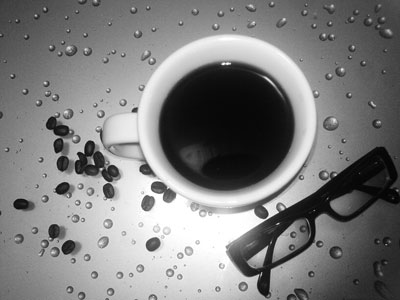 © Hannah U., Staten Island, NY