Calendar
March 20, 2017
It was eleven thirty at night. Thirty more minutes and it would be another day of my victory. Had this victory become an obsession? An obsession just like how you said my work had become. That was all I could think of, day and night. I couldn't remember when or why I started to obsess with this, but it had become a part of me. I glanced up the calendar hanging up on the white, dustless, yet claustrophobic wall by my bed. The December page lied open under the white pale light. Ever day had blood-red crosses upon them. Neat, clean cut crosses at first; then the lines became more and more squiggly and shaky as the days passed.
What was the point to count my days when I would die eventually? Every day was just pain. Pain burned my head and then morphine suffocated my thoughts. It was a mix of physical with emotional pain — the living and dying proof of how far a man could fall and had everything he loved taken away from him. This was the complete obliteration of self-esteem, the worst punishment you could inflict upon a person.
My head was clouded with memories. Jumbled darkness engulfed my brain. I sought desperately for the only way out — to defeat this sickness before it defeated me, to voluntarily and bravely walk up to the denouement instead of being pushed towards it by this disease. At least I could prove that I still had some last control over something.
No. What was I thinking?
Tonight was December twenty-fourth. Christmas eve. Faint Jingle-Bells and We-Wish-You-A-Merry-Christmas were passing through the windows and the walls. The skipping intervals of red and blue and green shades of the christmas tree lights in the hospital livened up the death-like mood a little bit. Most of the hospital staff had gone home to be with their families. Where were my families? Where were you? I tried to remember, but my head was burning and swirling and aching the moment I tried to think.
On the curtain were the faint silhouettes of a woman crying outside and a boy was standing upright, holding the woman's hand. Then the shape of a doctor walking by and the woman kneeling down in front of him. The doctor took her hand to comfort her.
The small boy opened the curtain partially. Then hush whispers, "Charlie, don't wake up your dad!"
Charlie. My son. It was you. For a moment I comprehended everything, but drowsiness struck my brain again. I shut my eyes in agony. No! Stop! I wanted to cry out in agony, yell out my pain, but I couldn't. I had no energy in my vocal chords and no air in my lungs.
You two walked over. There were so much I wanted to say to both of you. Darling, my wife, Julia. My memory skipped to the day of our wedding. We promised each other to be together in times of successes and failure, in sickness and in health. Then it was when we had Charlie. How I waited for hours with anxiety outside the surgery room in the cold and how I literally sprinted to you immediately after the surgery even without checking on the baby. I saw the small fights that we had over our relationship and how we still loved each other so much. How you left the house slamming the door shut but returned with my favorite food, or how we didn't say anything to each other for days but you still left a light on for me every day I returned home so late from work.
And Charlie. So much, so much to say. I wanted to tell you how sorry I was that I couldn't be the daddy that played football with you or helped you through your math homework. Every time when you showed me pictures of your spring field trips — when other kids were all happily with their moms and dads — I had disappointed you. I never had time back then. I was "busy" at work. I was selfish. I said that I wanted to create a better future for you, but deep inside of me, I knew that I was trying to pursue my own success, to elevate my own title, to chase the piece of pride and vain.
I couldn't express what I was feeling. I wanted to tell you that I was so sorry that I had let my career taken most of my life. Julia, I knew that most of the time we fought was because I wasn't paying enough attention to this home. And Charlie, I thought I would have time to be with you after this "stressful period of work", but now I would never have more time. If I were to be punished for my selfishness, losing you two would be my worst price to pay.
I opened my mouth. Julia, darling, I wanted to say something to you. I couldn't. But you nodded as tears trickled down your beautiful eyes. "I understand. I know. Me too."
The church bell struck twelve times. The choir was singing outside. Silent night. Holy night.
I reached out shakily to the red marker by my bed. Charlie, Julia, I would continue this fight just for you two.
All is calm. All is bright.
I felt your hand Charlie. Your young arm gently grabbing onto my wrist, leading my hand towards the calendar.
Sleep in heavenly peace.
A single bead of tear rolled down my cheek as I closed my eyes.
Sleep in heavenly peace.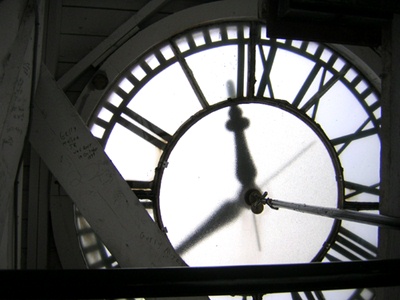 © Tatyana Z., Norwood, MA