Christmas Cinderella
October 25, 2018
It's Christmas time…finally! The smell of hot chocolate and freshly, cut Christmas trees are in the air. My mom was like Mrs.Claus herself. She would wear red and green everyday of December. Until that all changed. Three years ago, my mom died suddenly. It was heartbreaking. Another year later, my dad got remarried…to a witch. It gets better. Three months after they were married, my dad died in a car accident. My stepmother and her two daughters, Tina and Lynn, turned me into their maid, threatening me if I didn't do my work. Since then, my life has been dull and boring.
"You have to go, Nicole! It's the annual Christmas ball," my best friend, Kelsey says. We have had this conversation multiple times in the past week. She wants me to go to the 10th Annual Christmas Celebration ball. This year's theme is Masquerade Christmas I don't want to even think about going. Plus, I have too much work anyways.
"I'm not going for the millionth time." I don't understand. What's the point in going? I don't even have a dress. Besides, my step-mother, Tara, would probably make up some chore that will take hours to do like cleaning her bedroom. Uck!
"Come on! It's the last dance before you go off to your designer college in New York. I'll be so lonely without you. Plus, David will be there." She's making the pouty face when she says that. I don't even know if I got accepted into Design Institute of Technology. It's been my dream school ever since I was little. David is in the same grade as me. He plays on the school's baseball team. I've had a crush on him since he moved here last year.
"Fine! I'll go! Just leave me alone"
"Yay! Okay, so when do you want to go shopping?"
"Next week after I get paid." I can't believe I said yes and gave in. She was just being so annoying. She is right though. This is the last dance before I might leave for New York. I would probably feel bad if I didn't go anyways.
Two weeks later.
Tonight is the dance. I don't know why, but I am a little nervous. I'm also excited though. Kelsey is coming over at five, two hours before the ball begins. She is doing my makeup and hair. I just wish my parents could see me now. My mom was always doing something amazing with her hair. Even her messy buns were perfect. My dad would probably say that I'm growing up to fast and then start a story about how I used to dress up as a princess when I was eight. I miss them both so much. It's still unknown how my mother died.
My thoughts suddenly get interrupted by a scream. It's Tina. I run swiftly to her room. "Nicole! There is a rat in my closet!" Lynn and her are holding standing on top of the bed. I get the small trash can next to the desk and a piece of paper. I slowly open Tina's walk-in closet door, and walk inside it, searching for the rat. All of the sudden, the closet door slams shut and I hear a click.
"Ha! Now you can't go to the stupid dance to see David." They must have eavesdropped on my conversation with Kelsey. Ugh! "If we see you at the dance, especially with David, we'll tell mother and she'll take your money that your daddy left for you to go to college. You'll be with us forever. We'll be back at midnight. Bye!"
"Let me out! Hello? Hello?" Great! I'm alone and nobody can hear me. Plus, I forgot my phone in my bedroom. Best. Night. Ever.
"Nicole? Nicole! Wake up!" I wake up to find our butler, Sebastian, kneeling next to me. "What happened Nicole?" he asks in his british accent.
"Those brats locked me in the closet to keep me from going to the dance. Oh no! What time is it?
"6:00."
I breathe a sigh of relief. Then, I realize that Kelsey was suppose to come at 5.
"Sebastian, did Kelsey come by?"
"Yes. Actually she just arrived. She's in your bedroom." I stand up and thank him. I run
to my bedroom to find Kelsey setting out her makeup.
"Sorry I'm a little late. My mom had to take a bunch of pictures." She was wearing a beautiful red dress with golden sparkles. Her decorative mask is a beautiful shade of gold. Her hair was in bouncy curls and her makeup is perfection, like always.
"Here take this," I hand her one of my robes," You don't want to get your amazing dress!"
As Kelsey and I descend down the staircase, everyone looks up at us. "Why is everyone looking at us?"
"Not at us, they're looking at you." I blush. I have a long silver ball gown on with my hair up into a bun. I'm also wearing my great-grandmother's necklace. It was handed down to me by my mother right before she died. It means the world to me. It's one of the only things I have left from her.
We head over to the snack bar where there is shrimp with cocktail sauce, cookies, brownies, chips and dip, and luscious chocolate fountain. I take one of the red and green M&M cookies. Kelsey grabbed some punch for both us. "Great party, huh?" I turn around and stands there is David!
"Uh, yeah. Totally!"
"My name is David. You go to Seaside High right?
"Yeah I'm uh-" Kelsey grabs ahold of my arm.
"It's our song," Last Christmas by Wham! is playing loud out of the speakers" She pulls me onto the dance floor.
"I'll talk to you later!" I yell to David.
"OK."
After dancing with Kelsey, I go to find David. Suddenly, I fell a tap on my shoulder. I turn around to see David.
"Do you happen to, I don't know, wanna dance with me?" He stutters. I can't believe David wants to dance with me!
"Of course! I mean sure." Merry Christmas, Darling by the Carpenters is playing softly. I haven't been this happy in a long time. He smiles at me. I can't help but smile back. I lay my head on this shoulder. Out of nowhere, the big bell clock tower rings. It's a quarter till midnight. Oh no! The witch's evil children will be home in fifteen minutes.
"I'm so sorry, but I have to go" I tell David, then run off to get Kelsey next to the snack bar.
"Wait! What's your name?" He yells. I am too focused on getting out of here that I don't even tell him my name. If I don't get home in time, I will never see David again. Kelsey drives full speed to get me home.
"You were dancing with David! Oh my gosh! I can't believe it."
"I can't believe it either, but if we don't get me home in time, I will never see him again. Step on it!" We get home the same time as Tina and Lynn. I race up to my bedroom and throw on my robe. When I sit on my desk and act like I'm writing, Tina barges right into my room.
"I see you're still here." She walks around my room acting like she's looking for something. "Hmm… what's this?!" She pulls my worn-out shoes from under the bed. She knows they are new and have never been worn…until tonight. "I'm telling my mom" She walks out and slams my door. I relax and go take a shower. Before I get in, I notice I don't have my great-grandmother's necklace around my necklace around my neck. I start freaking out. I quickly grab my phone and call Kelsey and ask if she has seen it. She said she didn't see my wearing in the car. I can't believe I lost it.
Next Monday, I still haven't found my necklace. I sit there at the lunch table, thinking about all the possible places it could be. Kelsey keeps looking past me. "Kelsey, what are you looking at?"
"Oh nothing!" I can tell she's lying. Ever time she fibs, she starts tugging on her ear. Before I can say anything to her, David sits next to me. Kelsey starts smiling so much that her face turns tomato-red.
"Hi. It's Nicole, right?"
"Uh, yeah."
"I believe this is yours," he pulls out my necklace. I gasp.
"Oh my gosh! Thank you so much!"
"So, you're my mystery girl?"
"Yeah, I guess."
"I can't believe I found you. I have been looking everywhere for you. I remember you saying Kelsey's name, so I looked in the yearbook from last year and found her picture. I later talked to her and found out it was you I danced with that Saturday night." I just was speechless.
In the end, my stepmother had been arrested. Apparently, she was found guilty for killing my mother. She also has been accused for child abuse including threatening me. I was given my college tuition money and I was accepted into D.I.T.! David got accepted into his dream college too, which is also in New York! This is my happily ever after.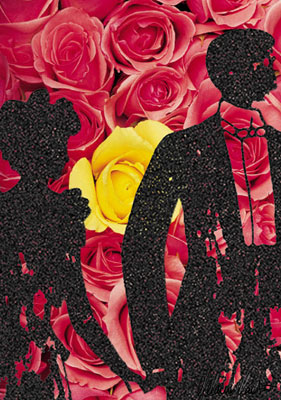 © Melanie M., Hendersonville, TN