Our Summer-Chapter 5-Wow
December 6, 2009
The silence was broken my hysterical laughing
Tony looked surprised but laughed too, "What? Is there something on my face?" He asked.
"No, it's just shocking how it took me 10 years to figure out that you were a boy." I managed to say between giggles.
"Ah, So, are you disappointed? 'Cause I could get a sex change if you'd prefer." he said jokingly walking up to me.
"No!" I laughed, "I think I like it better that you're an actual guy." He pulled me towards him into a gentle hug. I was positive he could feel my heart pound against his chest.
"Well, since I'm an "actual guy"," a mischievous sparkle in his eyes, "And you like that sort of thing, I've got some plans with your name on them." He lead me over to his bike. He pulled it into the driveway, I got on the back, and off we went down the road. The streets whizzed past in a blur of bright color, and I held tight to Tony's waist & buried my face in his hair. He laughed, I'm not sure why. It didn't honestly matter. I figured we were riding to Dana's lake, but instead, we went right past it. I looked at Tony in confusion, having no clue where we were going. He caught my look & smiled.
"I was hoping to confuse you by taking the back roads. Just hold on & enjoy the ride." I nodded & held on. Tony tried doing bike tricks like swerving or jumping with the bike. I screamed in delight & he laughed. Finally we stopped. I realized, feeling somewhat stupid, we were at Sparrow Park. It was where me & Tony had our 1st play date & where we both met LuLu. The park hadn't changed much since then. There was still the old-fashioned teeter-totter just a few feet away from the swings where we'd first seen LuLu (well, nearly got TRAMPLED by LuLu is a better word for what had happened), the sandbox, the jungle gym, it was all there.
"Remember this place?" Tony asked putting his arm around my shoulder as we crossed over into the playground.
"How could I forget? This is where we had our first play date & where we met-"
I was interrupted by a familiar body crashing onto mine from a nearby swing.
"LULU!" I screamed as I wrestled her into a hug on the ground.
"YOU TWO CRAZY KIDS!!!!!!!!! I can't believe it's finally happened!!! Honey, I'M picking out the stripper club for the bachelorette party, got it?" She said laughing. The day went great, we played all the games we used to play, like "photosynthesis", and Tony pushed us on the swings. LuLu got some great pictures of the three of us. There was LuLu, after she got her ice cream, painting it onto Tony's nose (screaming "SUNBLOACK PREVENTS CANCER!!!"). There was one of me & Tony dragging her from either end counting, "1,2,3!" and pretending we would throw her with her screaming all the way, (we got a passing jogger to take the picture for us). And there was one of Tony sitting on the swing, with me on his lap, and LuLu on mine all just laughing into the camera. But my favorite was of Tony holding on the swing, ready to push, and me just holding on to where his hands were & us just looking at each other like nothing else in the world mattered. We watched the sunset from the football field downhill from the playground. LuLu laid in the grass with the daisy crown I'd made for her, taking pictures of herself with my phone. Tony & me sat on the bench, my head in his shoulder, hugging.
"Summer, he's your BOYFRIEND! Don't hug him like he's your MOM!" she teased getting up, "THIS is how you hug a guy." LuLu said pulling Tony up to his feet. LuLu ran & threw herself onto Tony, landing with a huge THUMP onto the grass.
"Geez, I don't wanna KILL my boyfriend! I just got him!" I said laughing as they got up.
"Fine, well, when you hug him, show him how you feel."
That made more sense than trying to break his back every time I saw him, so I tried. Every emotion I'd felt since last night came rushing back as I pulled Tony into a hug.
"Wow." Tony breathed into my ear.
That was exactly the word I was searching for to describe my feelings; "Wow."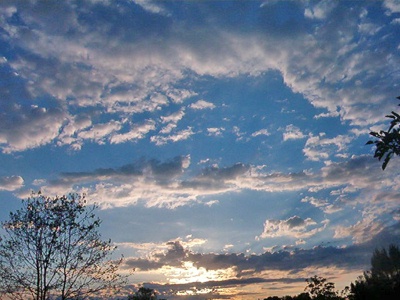 © Kaitlin M., Vincent, OH