Goodbye
November 30, 2009
-Jess-
"But, I love You" I glared back at him...why was this so hard? "Then..you are....a fool." he seemed hurt, but kept pressing on, "jess whats wrong? please whatever it is we can work it out." he was pleading with me. I
wanted more than anything to leap into his arms and tell him i didnt mean a word i said...but I had to do this...for him. "there isnt anything you can do. we had a thing...a common interest. But now its time to move on." He bit his lip trying to hold the tears back. Damn. If he started crying i was done for. No. I had to be strong. he breathed a deep shaky breath before he spoke. "Jess, you dont love me anymore?" his blue eyes shimmered with tears that threatened to spill over without any moment. why did doing the "right" thing hurt so much?
"...maybe...i never did. Face it michael, we've been living a lie ever since we started this. Somehow i fooled myself into thinking it would work. But i can see now how it was all just a charade. I'm done michael." Wow. i didnt think i was capable of being under so much pain without exploding. But this still wasnt over. It never would be. I'd always love him. His face twisted in pain, grabbing my heart, begging me to take it all back. But i could not. "Jess, please, what did i do? I'm sorry! I'll do anything! Please, don't leave me." tears fell down his face unncontrollebly, while my own threatened to do the same. This had to end soon, before I lost all control. "No michael. It's time for me to leave. I'm sorry." I turned and without a second glance, made my way to my old blue chevy, and drove off, leaving him there in his misery. The tears that had built up in my exsuasted eyes, now flowed relentlessly. What had I done?---------------------------------------------------
-Michael-
I watched her old blue truck into the horizon til i could see it no more. What had just happened? The love of his life...gone. How? Why? What had he done? These questions, and more, swirled in his head, flooding his mind, and clouding his thought.Hurt and confused, he trudged to his own car, in a daze. He'd only ever lived for her, and now that she was gone....now what? What was there for him to live for now? It had always been Jess and Michael, for the wonderful four years they had been together. Now, it was just Michael. Tears clouded his eyes.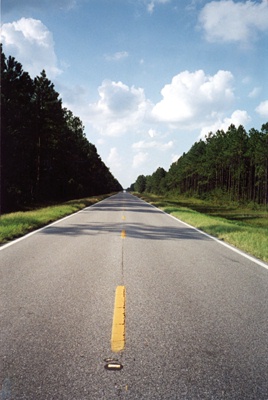 © Amanda M., Coventry, RI