Our Summer -Chapter 10- Our Thoughts On Love
February 8, 2010
July 15, 2009. We're on the plane, flying to Nantucket, Massachusetts. It's not that far from New Jersey honestly, but Sylvia gets carsick easily, so we're just going to take a plane. I've never flown, and honestly, it's AMAZING! I can see tops on buildings 1,000's of feet below us and the ocean is an incredible blue. We sway among the clouds and LuLu, Sylvia, and I gently tease Tony about his fear of flying.
"Hey, Tony, I heard the pilot was drinking before we started. I think we might crash! AHHHHHHH!" Sylvia jokes as Tony playfully smacks her arm. After a few hours, we land (to Tony's relief) successfully. As we drive to the DeVitos' beach house, we pass all the old little shops in the town. Everything has an old-fashioned look to it, and it's all beautiful. Tony tells us nobody drives their cars around here, everyone walks, uses a bike, or an Earth-friendly motorcycle. No wonder the air is so clean here! I haven't seen a touch of smog anywhere. Just clear blue skies, clouds that look softer than marsh mellows, and of course the peaceful sound & smells of the beach. The Devitos' beach house is a beautiful cross between a simple country house and a mansion. The house is surrounded by pink & white roses; they climb up the sides of the house, they fill the garden, and they cover the white fence in front of the house.
"Wow." I whisper looking up into the sea of roses.
"Just like you." Tony whispers gently into my ear sending warm chills throughout my body.
We go in & Mr. & Mrs. Devito "assign" our rooms. Its LuLu & I in the back bedroom, with a balcony that overlooks the beach if you turn right and the endless fields of summer-time green if you look dead center. Tony & Sylvia have the room just a few paces down from ours. Mr. & Mrs. Devito have the master bed room at the other end of the house.
"Too bad you & Tony couldn't share a room, huh Summer?" LuLu joked as we unpacked. I wacked her with one of the throw pillows & she hit me with another one. Back & forth until we were both too tired to continue on. We collapsed on the floor in complete hysterics. We finished packing, ordered pizza (since we weren't in the mood for seafood just yet), and went back up to go to bed. I stood in my simple white nightgown on the balcony looking up at the millions of tiny stars over my head. I closed my eyes taking in the peaceful quiet of the night. Off somewhere in the distance, I heard waves crashing onto the shore. It was all so perfect. The warm night breeze tickled my cheeks, and I could smell the soft, sweet aroma of the roses surrounding me.
"What'cha thinking about?"
I turned to see Tony coming onto the balcony & closing the door softly behind him. He was still in a white Abercrombie tee-shirt & jeans, and I felt slightly stupid standing in a nightgown, even though it wasn't that short.
"Life. Love. Happiness. The future. You." I said as he held me close. We looked up into the stars together. I closed my eyes again, and the smell of Tony was now mixed in with the ocean air & roses, I could've fallen asleep right then & there in another little piece of heaven.
"Well, my thoughts on your thoughts are this; 'Life is Like A Box Of Chocolates'," he smiled, "I'm happier right now than I ever have been, and when I'm with you my future looks its brightest."
"You forgot about love." I said laying my head on his neck.
"Well the best for last; Summer Johnson, I Love You."
I knew then, (as dramatic as it sounds) as I stood on that balcony with Tony Devito, hearing him tell me he loved me, that I would truly love him until the day I died.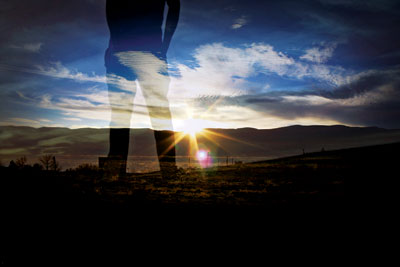 © Ezekiel R.