Crying
February 18, 2010
I began to cry- softly at first, but then it came in a rush and I was sobbing on the floor of the cabin. As though I had no bones, I sank to the ground and wept my heart out for what seemed like forever. It was all useless. I couldn't be strong or brave. We couldn't find the facility because it didn't exist anymore. Adian was going to die and no one would care. No one but me. I would go crazy after it happened and then I would be locked up in an asylum. Possibly I would die too. But would it be better that way? A clean cut- no more freaks. Immediately I was shocked with myself. Adian wasn't a freak! He wasn't, nor was I…
Faraway sounds filled my head as I struggled in a fruitless battle to regain my composure before Adian came back from firewood gathering. Half of me wanted Adian to be here for me, have him comfort me. But the other, stronger half wanted him never to have to see me lose my control like this. Adian would feel the pain and blame it on himself. Shoulder the pain; try to take it away like it was physical weight from my small, beaten figure. We are that in synch, I realized. We are basically one person now.
The sounds intensified. Adian, I could hear, was putting down his knapsack and stacking the logs neatly on the porch. Well, he would have to see my tears. There was no way around it. The thought of it brought on more tears, and I cried with renewed vigor even louder than before. I imagined Adian cocking his head with his good hearing. His footsteps were loud on the wood floor as he flew for just a second to the back room.
"Halley?" He asked a trace of panic in his voice. He saw me and pulled me to his chest, murmuring my name.
"What the hell happened?" He asked as I leaned against his chest, my body racked with raw tears.
I tried to speak but nothing came out. He rubbed my back. "Hals, it's okay. You can stop crying now. I'm here. Everything's fine."
Anger flared at that. I found my voice. "Adian. Please stop saying that. You know very well it's my own damn fault I'm crying so hard I can barely talk." This was true. My voice shook and wavered as I forced the words out. "You are always too hard on yourself. Just let me take the blame and cry myself out."
But I couldn't be alone. I was too cowardly for that. "But please stay," I pleaded as I felt the tears coming on again, full force. He couldn't speak. He just nodded and let me cry. Cry, cry, and cry… until I finally fell asleep in his arms.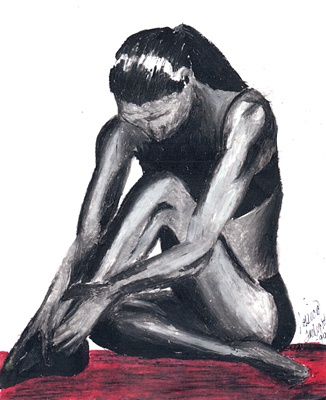 © Jessie Y., Ahwahnee, CA