Smile Sweetheart ch. 5 (continued)
February 10, 2010
We stayed quiet the rest of the ride, until the petite lights of the town came into view, and the luxurious cars started appearing. I watched enviously as rich men and women came out of their BMWs and Mercedes. Nick parked the car in a slot next to a restaurant with Italian music flowing out of the open dining area. He opened my door for me and helped me out, then went to pay the parking toll. I walked to his side, feeling uncomfortable and out of place. After he was done, he put his arm around my waist and led me to the entrance. A girl with auburn hair, who looked like she wanted to be somewhere else besides her job, was standing at a podium picking at her nails in a bored manner. When we walked up she looked up intently at Nick. Then she glanced at me and shot a "your not worthy of him" kind of look. I cussed her in my head.
"What can I do for you, handsome?" she said flirtatiously.
"A table for two please," he replied, trying to ignore her scrutinizing.
She looked at me again, with an even nastier look than before, and grabbed our menus and led us to a table in the outside dining area.
"There you are. Your waitress will be right with you," she said walking away to meet up with the waitress. She wrote on a piece of paper and gave it to her. A bubbly brunette walked over to our table, obviously noticing whatever the girl had just told her, most likely about Nick.
"Hey guys, I'm Vanessa. I'll be your waitress for the night. Can I start you off with a drink?" she asked, naming all the special drinks and coke products. While we were debating on what to get, she slipped him the paper. I eyed her arm, suspiciously, probably looking as though I was going to bite it. She saw me and gave me a quick smile. Yeah that's right, try to act innocent, I hissed in my head.
"What's that, sweetie?" I said eyeballing Nick, and then looked at the waitress smiling sarcastically, "I'll have a coke."
"I'll have what she's having," Nick said after me, his voice some what uneven.
"Ok. I'll be back in a sec, in the meantime, why don't you guys check out the menu." She walked away meeting up with podium chick. They giggled and pointed at Nick repeatedly.
"Can I see the paper, Nick?" I said holding my hand out. He handed it to me cautiously.
It said, If you ever want to date someone pretty, just give me a call. –Catharine. Then it had her number with a heart next to it.
"Wow, really? That….." I fumed, crumpling up the waste of a tree.
"Morgan, don't worry about it. I like you. She can't change that, no matter what she wrote," he said grabbing my hand in his. I smiled, but I was planning a way to get back at her. With one hand, I picked up the menu. The lasagna sounded good.
"What are you going to get?" I asked, still gazing at the choices for dinner .
"I'm going to order the chicken alfredo like I always get, how about you?"
"The lasagna sounds good, so I think I'm going to get that." I said, closing the menu and placing it on the end of the table, just in time for the waitress to come back with our drinks. She looked at the paper with a shocked expression, when she placed the drinks down.
"So, are you two ready to order?" she asked pulling out her pad of paper. We told her our orders and she left as fast as she came. On her way to the kitchen she stopped to tell the podium girl about the note, who just happened to be glaring at me with hate.
I waved back, then pushed my nose up like a pig and stuck my tongue out at her. She gasped and stomped away to the women's bathroom. I snickered and turned back to Nick who seemed to be amused by my little taunting as much as I was.
"It looks like you got her mad," he laughed.
"I know," I snickered. "I love it." I grabbed my coke and slurped it, attracting a nasty look from the old people sitting at the table next to us. I really needed to take manner lessons; I had no idea how to act like a prissy, rich kid.
"So, how did you enjoy today?" Nick asked trying to make conversation.
"It was very nice, especially when I was in the garden." I smiled shyly; he did too.
"I'm glad you had fun. I hope we weren't missed too much at school today," he joked.
"I bet there will be talk," I groaned, placing my empty glass on the table.
"Then we'll let them talk away. We've got each other, that's all that matters, not what other people think."
"You're very wise for your age, young one," I laughed teasingly.
"Thank you sensei," he replied with a smirk, bowing his head a little. I nodded my head to him as well.
"Excuse me, sir. These are very hot, I don't want you to get burned," Vanessa's voiced said close by. Then she came into view with our food sizzling on her tray.
"Hey guys, here's your food, but be careful the plates are hot," she said leaning over Nick to put the plates down. Her boobs were practically in his face. I scowled deeply at her when she walked away. Nick looked very uncomfortable being here now. I started eating my food, too hastily for my own good. After it was all in my stomach I felt the burn on my tongue and drank the whole glass of coke, Vanessa had just refilled, in a matter of minutes. Nick was just getting half way done with his entrée. The heat rose to my face as I though of what I must have looked like -a total pig. Nick kept eating as I sat there tormenting myself with my carelessness. He finished and looked surprised to see that I was finished before him, but didn't comment, thankfully.
"That was good," he said satisfied, stretching his arms behind his head.
"Yep," I agreed shortly.
"Are you ready to go? I just need to flag down the waitress and pay the bill and we're off." I nodded in response. Eventually she came around, and Nick paid the bill. As we were passing by podium girl, Catharine, I stopped in front of her.
"Some advice; hit on guys that don't have girl friends. That usually works out better. That way you don't look like the desperate girl who can't get a guy any other way than having a waitress give him your number. That's just pathetic," I said emphasizing each word, putting menace in their meaning. After I was done insulting, we walked to car, hand in hand, and he held the door open for me. I climbed in, grateful to be out of site for the most part, feeling a little chilly. Nick noticed the goosebumps on my arms and turned the heat on for me. I gave him a grateful smile, and put my hands over the heater. He drove us back to his house to pick up my duffle bag, and then he drove me home. The first thing I saw when we pulled into my driveway was my dad's shabby and rusted, blue Jeep.
"Uh oh," was all I could say.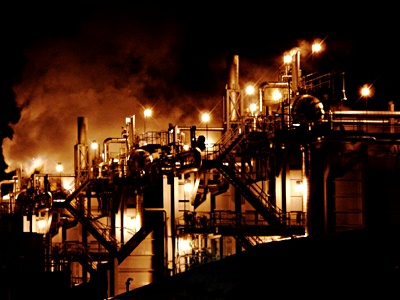 © Greg K., New Lenox, IL