Our Summer-Chapter 11- Flirting
February 19, 2010
I felt the sunlight shining across my face & the gentle breeze blowing softly on my hair. I knew it was morning, but my eyes were too heavy to lift, so I laid there quietly in the land between awake & asleep until I felt someone's lips gently touching mine. I awoke with a jump, nearly smacking Tony as LuLu & Sylvia laughed in the doorway.
"Good Morning Sleeping Beauty." Tony laughed. He was sitting on top of my bed holding me in his arms. LuLu & Sylvia were still in their pajamas but Tony had a swimming shorts and…..that was it.
"Why do I have the strangest feeling that you were here all night?" I said putting my arms around his neck.
"I promise I wasn't."
"Too bad. I wouldn't have minded." I joked as I got out of bed.
"We're going down to Surf-Side Beach." Sylvia said tossing me my red bikini from the drawer.
"Think of this as your honey-moon Sum. Dress sexy for the beach & THAN Tony will sleepover in our room tonight." LuLu laughed. I threw off the blankets & chased her through the whole upstairs of the house.


Nantucket beaches. Beautiful, but the waves are KILLER! I don't think a pro surfer could stand up any longer than 5 minutes. The waves crash onto you, the impact knocking you over as salty foam tickles your face. I was knocked down at LEAST 10 times before getting the hang of it. Once you're out further into the water, it's easier to keep from a wave killing you. Out there, you could just float & let a wave rock you. Unless of course a boat passes & sends a wave big enough to flood Rockwood, than you're gonna get killed & dragged back to shore. I might not get the sand out of my hair for a few months if this is what the waves are like every day.
"They are." Tony assures me as he runs out with a surfboard into the middle of the crashing foam.
LuLu & I watch Tony attempt to stay up on the board, Mr. Devito is trying not to laugh while me & LuLu are cracking up. Sylvia is tanning on shore with her mom. I look around the beach; there are not many people here & even fewer in the water. A little further down, there's a group of boys all laughing & swimming together. Two of them are talking & looking straight at me & LuLu. One has curly blonde hair & from right here, he looks like Rob. The other has dark chestnut hair & is very tan. He almost looks a little Hawaiian complete with a shark-tooth necklace.
"Lu, look at those guys. They're staring right at us!" I nudge LuLu & gesture over to them.
"Honey, they're not just staring, they're swimming over." She smiles playfully. We begin to swim towards them & soon we're all standing face-to-face. The blonde one has blue eyes, but they're nothing like Tony's. The Hawaiian has stunning green eyes that almost hold me in a trance.
"Hi. I'm LuLu." Says LuLu breaking the awkward silence.
"I'm Spencer," the blonde responds, "And this is Nico."
"This is Summer." Says LuLu.
"Thanks." Nico & I respond to our friends at the same time.
LuLu begins flirting with Spencer. She's such a flirt. She has a perfectly good boyfriend back home, why is she wasting time with a stranger from the beach?
"Do you come here often?" Nico smiles. He has a strange accent. Almost British-sounding though he doesn't look British at all.
"Um, no." why is he giving me such butterflies? I try to hold on to my train of thought while looking into his shining emerald eyes. "I'm here on vacation with uh, friends." More like Boyfriend Summer! My brain cautions
"Well, if you & your friends want, we're having a party tonight in the old barn down the road from the grape farms. Whole town is invited, parents too so we won't get into TOO much trouble. You should all come." His smile was so innocent & sweet, I could feel my cheeks burning. Why are they burning?! You have a boyfriend who loves you!
"We'd LOVE to come!" LuLu giggled
"Great! See you girls tonight then." Spencer & Nico winked before rejoining their friends.
"What was THAT?" I whispered urgently to LuLu
"What happens in Nantucket, stays in Nantucket." She winked as we swam back over to Tony & Mr. Devito
"Who were those guys?" Tony asked as I sat on his surfboard with him.
"Oh, just two local guys. There's a party tonight, they want us to come." I said looking down into the water.
"Yeah can we Mr. Devito? Please?!" LuLu begged.
"Sure, I know the family that hosts that party, they're responsible &almost the whole island shows up to supervise." Mr. Devito smiled before going to catch a huge wave further out.
"Summer will get to flirt with her Nico again." LuLu joked
"I wasn't flirting!" But my face turned red anyway.
"I'm gonna go catch another wave." Tony said as I got off the board. He swam off without looking me in the eye once.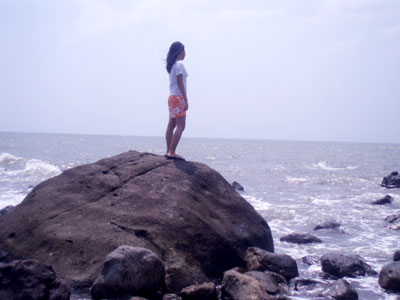 © Grace L., Bacolod City, Philippines