Fire Heart12
April 21, 2010
Chapter 12: Keyed and binded

"You know, they say that when you have a boyfriend, you're grades go down. Mine are rocket high, better than ever before.
That is definitely a first for a record." He laughed at my assessment. "You think of the funniest things." He shook his head. "Well, it is true. You can see every paper I have done.
They are all one hundred percents. Proven." I pulled a wrinkled paper out of my book bag. He carefully slid the paper out of my hand and read it. "First of all, this was easy.
Second, you weren't applying yourself before. For some reason, now you are." He pointed out. "Yeah I guess you are right. You're always right." I sighed and muttered.
"Get used to it." He sighed and walked quicker. "I never really assumed that it was ever going to be different." I ran trying to catch up with him. He walked slower as he saw me running.
"You know, being a…being what I am isn't so bad, when you have someone to love. Not to mention someone like you." He huffed and put his arm around me.
I laughed and shook my head. "You know, being a human isn't so bad, when you have someone like you to love." He laughed. "No don't say that." He smiled and laughed under his breath.
"Well it is true." I pushed. "Oh Honey no…you keep me up straight and you will always be stronger than me for that. It is just the way it is. So don't bother trying to prove me different."
It frustrated me so much about how stubborn he was. He laughed once more and walked into the building.

We sat in history class side by side. Drew wasn't paying attention at all. He was staring out the window, and staring at every person who walked past the door.
He was skilled with his eyes, and he carefully watched every little flinch their muscles made. And then he looked down as if he had just woken up from a daydream.
He pulled out his phone, and began a new message. As soon as he was done, I felt my phone buzz in my pocket. I looked at the message from Drew. 'What are they talking about?'
'Ugh, I don't know.'
'You are great help.'
'Yeah.'
'I am taking you to my house after school.'
I looked over at him with that expression of, 'Do I have to?' again. I looked at my phone.
'Yes. You will be fine. They won't eat you.'
'It isn't that I am worried about.'
'Don't worry about anything. It will all be fine.'

Drew walked beside me in the parking lot. Today, he was very jumpy and talkative. "So, how was your math test?" He asked happily. "One hundred percent Drew!"
He picked me up and pressed his lips to mine. "Honey, that's great! Well, I guess you are somewhat proven, but like I said, it is all about applying yourself."
He smiled and gleamed happily. "So, I have something to do today, I can't go." His smile shortened and lightened back up again. "So, what is it you have to do?"
He asked me grimly. "Umm," I hesitated before I answered. "I ugh, well ugh I have to go to a thing, umm yeah a thing for school." He laughed and kept walking.
"You're such a bad liar." He laughed and sighed. I ran to his car. "Well, I do. I am going to this thing for school. I am required to attend it." I reassured him bleakly.
"Uhuh, what is this thing?" He asked still laughing. I got in the car and buckled my seatbelt. "It's ugh, for biology." I blurted. He shook his head laughing.
"Honey, you don't take biology." He laughed and pulled out of the parking lot. "Ugh that's why I have to take it." I started to laugh slightly, and a grin appeared at the corner of my mouth.
"Whatever, you're going. It's a good thing you're such a bad liar." He sighed and his voice grumbled. "So, what if I am sick?" I asked laughing. "In three hours? Don't try with me."
He grumbled. I nodded and sighed. He drove into a back road and up a dirt path. We followed that a while and drove back into a wooded road, now paved. He talked the whole way, showing he was anxious. He pulled into a long dirt driveway. I expected the house to be of a normal size, but I was completely shocked. It was a large stone mansion with a dark look. It had a large black gate hiding it, with the label, 'GIVER MANSION.' It was beautiful and antique looking. "Wow…this is the biggest house I have seen in real life." I stuttered. He laughed and kissed my forehead. "If you like this, you'll love the inside." He sighed getting out.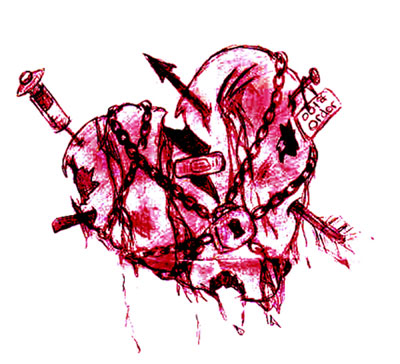 © Asia B., Hudson, MA