Today. Tomorrow. Forever.
May 9, 2010
The sun was beginning to set in the backdrop of my photo. The orange and pink sheen of natural light hit her face at an angle. With only a trace of makeup, she was beautiful. Heck, she was beautiful without the makeup, too. As the wind picked up, the brunette curls that once nested above the small of her back followed the wind's path. In that second, I wanted to savor the moment of her here. Click.

At the flash of the camera, she turned to me and grinned sheepishly. "I didn't know you were going to take a picture," she croaked. I hadn't heard much from her the whole evening, and my senses yearned for her voice. "I would have smiled."

"I don't think it matters," I reply, telling the honest truth. "I just want one picture to remind me of this day—to remind me that you were once mine."

I saw a hint of despair in her expression as she pulled her knees to her chest. Hailey would leave to college the next day. I wanted to visit her everyday at her dorm and give her those never ending kisses she loved, but she received a full ride to Chicago. Stuck in Orlando, I had to let go of the one girl who held my entire heart.

Hailey was valedictorian of our class, and she had a long road ahead of her. Many students at the school pointed out that I was "lucky" to have someone much higher in value than me. And I believed it; I didn't deserve Hailey. My sweetheart could go to any college she wanted, but I couldn't even get one measly scholarship to the local college.

"Um," I stammer, "I'm sorry." Sorry I'm a lowlife who'll never be able to provide for you. Sorry I can't buy you diamond rings and a new car for your birthday. Sorry I can't make it to college for you.

"Why should you be?" she inquired shockingly. A tear strolled down her cheek, hitting a spot on her top. "Evan, you've given me so much this year."

I stood there, not knowing what to say. After a long thought process, I asked her, "What has a guy like me ever given to you? I don't have much."

She wiped her tears away and tightened a grasp on my hand. "Do you remember the first day you told me you loved me?"

I nodded.

"That day, I planned to shred all the poems inside that stupid journal I had. They were all about you, Evan. Each of them told a story about us. When you told me you loved me, I kept that journal. Don't you remember what happened to that journal three days after?"

"You left it in the library, and your poem was published in the paper," I answered.

"That's right," she whispered. "You've paved my pathway, Evan. Most importantly, you gave me a piece of your heart. That, Evan Westford, can't be traded for any amount of money in the world. For that, I love you."

"I love you, too," I cried. Hailey has been the only girl to make me cry. "Miles apart or close to the heart, you were once mine."

"No," she shook her head. "Miles apart or close to the heart, I will always be yours."

I smiled and traced her trembling lips with my thumb. As I kissed her soft, warm lips, I knew Hailey was mine. Today. Tomorrow. Forever.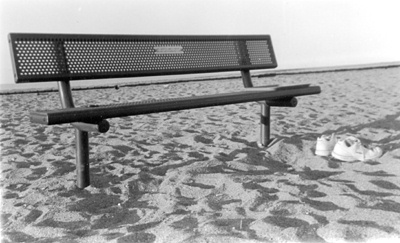 © Jenna H., Marblehead, MA