Surreal Life
May 23, 2010
One of the most beautiful people.....

Your heart strains as you anticipate the bell to ring and for that next moment to come. You are obliviated to all the chaos around you until the signal goes off and you are to complete your mission possible. Diminishing into the sea of people, you dodge every obstacle left and right. As you attempt to speed up, traffic only slows. It seems as if the people increase with every corner you turn.

Making your way down the stairs, little raindrops attempt to form in your eyes, as it seems the closer moves your feet to your final destination, the farther you become from his heart.

Interrupting a desperate attempt to desert that feeling, you suddenl, as if by magic, lock eyes with that beautiful creature. The clouds disappear and the Sun emerges, reflecting off of his delicate brown eyes and causing them to glisten.

When you finally meet, he slowly slides his arms around your petite waist, caressing your lower back. You wrap your arms around his neck as he thrusts you toward him, mashing your heart into his. Your heartbeats echo off of each other as his lips trap yours, kissing you with a secret passion unlocked. The warm moisture of his plush lips runs through your veins. Your bodies seem to get closer with every head alternation to the point where they could merge into one.

Suddenly, he bgins to make a loud buzzing sound that snaps your crust filled eyes open. Looking around with tears in your eyes at your bright room and the sun rays reflecting off of the furniture makes you cry at the sad reality that you'll just have to wait....for the last bell.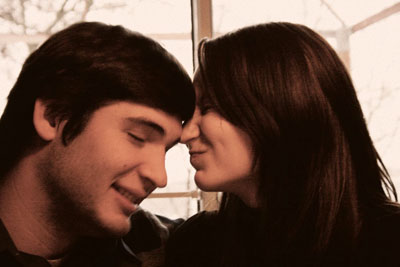 © Hannah L., St. Louis, MO