Cryin'
June 10, 2010
Zachary tugged on his backpack strap and continued ramming his books into his pale blue locker. He ruffled his tousled locks and quietly looked at Lindsay, his locker neighbor to the right.

Lindsay sheepishly smiled and gave him a thumbs up. She was elated to find out they'd be locker neighbors. They were home neighbors since Lindsay's parents divorced. She moved in with her father when she found out that he chose a house right next to Zachary.

Zachary was a great friend to her and always remained right behind her in life. Lindsay, while continuing to look busy by rearranging her journals in her locker, thought about how different Zachary was from her. No wonder they were just friends, she mused. She looked down at her feet until she heard the dragging of wornout Converses.

She looked to her left and saw Grace, Zachary's other locker neighbor. Under her heart, she felt a pang, but she didn't understand it.

"You're so stupid," Lindsay muttered to herself. She continued to look busy to eavesdrop on Zachary and Grace's conversation.

But then Zachary turned to Lindsay, and she believed that maybe he changed his mind about everything.

"Are you sure my hair looks okay?" Zachary asked, eyes wide and worried.

Lindsay swallowed a lump in her throat and nodded, no emotion in her face. He smiled widely and turned to Grace.

"Hey," Zachary smoothed in, holding out a hand. "I know you don't know me, but I'm Zachary."

Grace grabbed hold of his hand and smiled preciously. "I'm Grace."

"I was just wondering if you'd want to go to an Aerosmith concert with me," Zachary offered. "I noticed your Aerosmith tee, and my friends don't really listen to them."

Lindsay looked down and noticed her Taylor Swift tee, noticing her and Zachary had two different tastes in music—another thing that put a boundary on what could've been.

"Are you serious?" Grace gleamed. "I've been looking for tickets everywhere!"

"Yeah, maybe it's time I get to know my locker neighbor, anyways," Zachary laughed.

She giggled and tossed her blonde streaked hair behind her head. "I can't believe you listen to Aerosmith. It's an odd coincidence."

"I know," Zachary agreed. "Not many students listen to them here. What's your favorite song?"

"Rag Doll for sure," Grace answered. "What's yours?"

Lindsay now was holding tightly to her books, closing her locker with a twinge of regret in her heart.

Zachary was still thinking until he came to a grand decision. "Cryin'."

Lindsay ran to the bathroom, knowing that's exactly what she felt like doing at the moment...cryin'.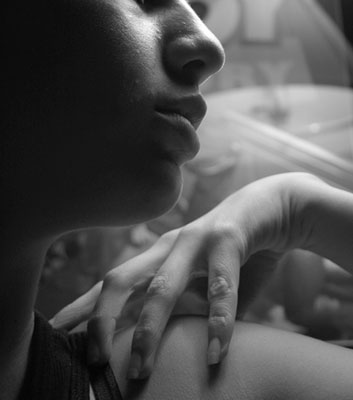 © Rebecca B., Santa Clara, CA