Louisiana Rain
July 9, 2010
I remember our first kiss.
It was third grade, under the slide. I heard the children above us, gliding down, kicking sand up as they hit the bottom.
I loved the way your eyes were like the glistening green marbles I rolled across my hardwood floor. I counted the swirls of gold cradling your pupils.

You told me you liked me; igniting the butterflies inside my belly. You weren't like the other boys, who cared more about who was the fastest runner, and who could be the funniest in class.

You asked me if you could give me your kiss. I told you I was a good girl, and I didn't kiss boys.

"Not with spit," I warned. That was dirty.

"Okay," you said, "I won't. I kiss nicely. What about on the cheek?"

I told you I guessed that was alright, but I wasn't sure.

"You are beautiful, Dakota," you told me, and my heart swelled up and burst into my throat.

I heard you laugh; it reminded me of the tinkling little bell on my dog Holiday's collar. I stared down at your light-up Superman shoes.

You had one knee protruding from your ripped jeans, the pair you crawled around on the floor with and pretended you were a Brontosaurus on the hunt for leaves. You leaned forward. I squeezed my eyes tight and I said that I was ready.
I felt your lips; smooth from the Capri-sun juice you drank from snack time against my skin. I squealed with excitement. But, being eight, I thought it felt strange.
I was not one of those girls. I was still a child who thought boys were icky and recited the, 'boys go to Jupiter to get more stupider,' jingle in a sing- song voice with my girlfriends to our male classmates. They would respond with, 'no! Boys go to college to get more knowledge!'And it would go like that.

But you were different, and I admired you for it.

You told me you wanted to try again. I still wasn't sure if I was okay with that, but you leaned forward. Your hand found mine; they were calloused from the monkey bars.

You kissed me on the lips. And, as you promised, it wasn't wet or gross. It was warm and beautiful and it didn't last as long as I wanted it to.

You pulled away and looked into my wide, surprised eyes. I was shocked and happy at the same time.

"Was that good?" you asked, as the children running past us created dancing shadows on the sand.

I held my hands up; my fingers were streaked with peanut butter, remnants of my snack. "Yes," I said, and kissed each of my own fingertips. The tingling on my lips was like a smoldering, beautiful, flame-red fire.
My cheeks flushed red as I saw the children around us peeking under the slide and giggling, "Seth loves Dakota!"
And it became a legend. Seth and Dakota! Did what! Kissed under the slide?
We did. And it was wonderful.

The years went by.
You were taller and slender, and your once wispy black bangs were styled more sophisticated, because you told me it was time to grow up.

We would lie out on the grassy hill in my backyard, soaking up the sun, gazing at the buttery clouds. I would point out the shapes I saw, I would tell you they were like little, white sailboats in the aqua-blue sky. You would laugh and kiss along my neck, as my fingers knotted into your hair.

Other times we would run through the Louisiana rain, gasping, water streaking down our bodies. You told me my eyes looked more cobalt in the rain; two drops of liquid- blue crystal. The people under their umbrellas would smile and shake their heads muttering, "Young love."
They were right. We were so in love with each other. I never wanted to grow up.


I waited for you to tell me you loved me, the night you sneaked through my bedroom window.
I heard you tap against the glass, and in the frigid winter night air; it fogged with your breath.

I wanted you to be warm. You pulled me into your arms and we kissed. We fell back against my white downy -feathered mattress. You smiled and it was heartbreaking and I only wanted to love you more as we both dove into water that neither of us had ever set foot in.

You told me you had to go, the moonlight contrasted against your sun-kissed skin.

You said, "Remember third grade? Seth loves Dakota. And I do. When I kissed you under the slide, I knew I wouldn't ever want anyone but you," you slipped out my window and into the night.

Only a month later, I leaned down and kissed your eyelids shut at your funeral. I stroked the scar running along your jawbone that grinned up at me. It wasn't your fault the murky Louisiana rain had slicked the road, or that the oak tree I left a little white cross with a lavender ribbon by had mangled your body into a pretzel.
The rain drizzling against my roof, falling from the gray clouds like the tears from my eyes, reminded me you were once real.

I still spend every day drowning in your golden-green eyes.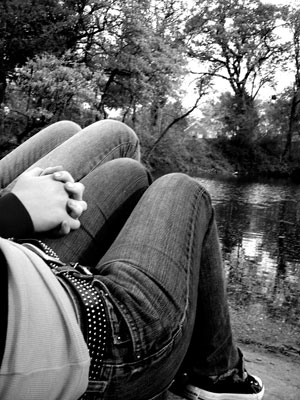 © Lauren R., Edmond, OK