I'm Done
July 10, 2010
I could make you so happy, Jenny. I could hold you in my arms like this forever. I could hold you forever. I wouldn't let go; not this time. I promise you that; I can guarantee you that much.
I smiled slightly at the though of sitting contently in Jeremy's arms for all of eternity. It was a nice thought, a welcome one. But one that had to be turned away. Like a stray visitor come to my door, just asking to rest inside for a while, Jeremy needed to be turned away. He had his chance, and it had passed.
But that did not mean that I was over him.
"Jeremy," I said to him quietly while shaking my head. "I don't think you understand."
"So explain to me, Jenny! Explain to me how you think that we don't belong together, that I am not the perfect guy for you." He said the words trying to intimidate me, trying to guilt me into the relationship.
"Okay, I will," I said un-afraid, and knowing what needed to be done and keeping that one thought in my mind.
"Jeremy, I loved you. I loved you totally and completely, and I never wanted to leave your side; I thought that you were the one and only for me. And everyday you told me that you loved me too, and that you felt the same way about me. And I believed you; more to the point, I trusted you. I trusted you to be good to me, and to not betray me. But that's exactly what you did; you betrayed me. You ran off with some other girl, while you still apparently loved me. You broke my heart. And, now, here you are, begging me to take you back. And you expect me to take you back after all that, Jeremy? Do you honestly believe that you are such a catch that I will take you back after all that? Well, Jeremy, your not. And if you ever want to get anywhere in life, you have to realize that. But I'm done with you now, Jeremy; I'm done with your games."
I turned to walk away from him, but he grabbed my arm. He didn't spin me around, he didn't take me in his arms; he simply just held on to me, keeping me in that one spot, his arm like a handcuff on me, on my life.
"I love you, Jenny," he whispered to me softly, vulnerably.
I turned around to him. I looked into his eyes and saw his sea green gorgeous eyes scorching, burning with intensity, with wanting. I softened under the intense gaze of his eyes.
"And I love you, too, Jeremy."
His hand fell away from my arm, limply.
And I walked away from my love. And I broke the chains that he had put on my life.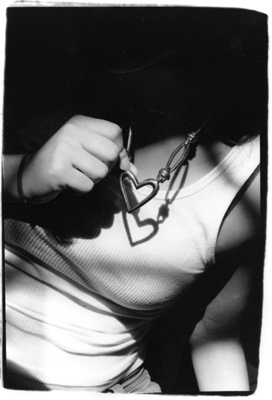 © Julia R., Bethesda, MD