my guardian angel
October 27, 2010
Walking through the crowded carnival, I grabbed Ryan's hand to keep him close. He laughed and threw some popcorn at my face. I giggled. It was our first date, and I was extremely embarrassed. Ryan was from a different school, but we were at my school carnival, so I was getting non-stop texts asking who he was.
He was tall, with black hair, and gorgeous blue eyes. Skinny, but not in a weird sort of way, he just worked out a lot. He had a way of talking that just kept me listening for hours on end. My favorite thing was that he would let me fall asleep in his arms, while he stroked my hair, and talked. I loved this boy with my entire heart.
We took a road trip one time. He, his friends, and I all piled into one old van and went all the way to Mississippi. It was the best thing I've ever done. Countless hours of him and I, sitting in that old, beat up VW while his friends played music and laughed.
It was a dream come true for me, and I loved every second of it. Ryan lived life to the fullest, and never wanted to miss everything. He made me smile, and made me laugh. He was like my other half.
Then I got the call one day.
It was a rainy day, and the roads were slippery. I had stayed home sick. I was 19 at the time, and thought everything would be alright, and nothing bad would ever happen.
By the time I got to the hospital, he had already died. But he told the nurse to tell me this.
"tell her i'll be with her until the very end. tell her not to cry over me because i'll be her guardian angel, and that she'll always have me there for her. tell her that i love her, more than my own life."
He had died in a car crash, because he was bringing me chicken soup and flowers.
Ryan, I love you. You're my guardian angel, and will always watch over me. To quote Taylor Swift, you were the best thing that was ever mine.
So thank you, for those two amazing years.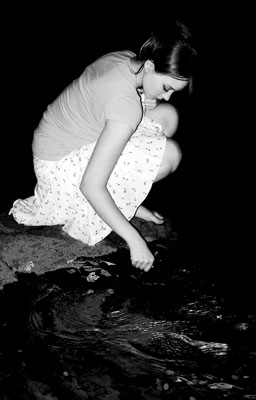 © Michelle B., Blairsville, GA