Late Summer Lake
November 4, 2010
What I remember most about Wabana is the water; warm and thick with algae along the banks where reeds broke the surface; cool as you swim out to the middle of the lake where the water was deep and clear and sent a chill through your bones.

Everyone at Wabana complained about the bottom where the mud and pondweed clung to your feet and held you fast, but I think it just wanted to be friends and drag your body down to its watery playgrounds.

People at Wabana seemed to complain about a lot, fishing license's, beer availability, spiders and communal showers. The adults complained about how the kids wouldn't listen, the kids complained about how the adults were so demanding. But all in all, everyone had a good time.

Of all of my family I think I had the best time of all, for in that stubborn age of adolescence, laying down in a canoe on the vast waters of lake water bacteria and all that microscopic biology, I met her.

She was sitting on the sandbank, dragging her long fingers through the coarse grains, she caught my eye under the suns passionate rays.

I hurriedly checked to make sure my life jacket was hidden away and then guided the boat over to the shore.

Being from the city my paddling made a loud splash and when I stopped to get out of the canoe I let the oars drop onto the metal frame with a loud thunk.

She was alone momentarily, I would be alone for the rest of my life unless we came together in the grasses of this lake.

There's no reason to describe her beauty, because whoever you love seems like the most beautiful person on the earth, and since there can only be one person who is the most beautiful, and since she has probably been described to you countless times, I have only to say that I love Cassandra.

Whether Cassandra loved me I could only hope that she wasn't flirting with me purely for my 80 gig Iphone.

The first thing she said to me, I can still picture those words perfectly in my mind, "You are one h*** of a crappy rower." After that it was just like magic, we stayed out late that night and kissed and every night after, on the beach, the water lapping over our legs.

And maybe the reason that that week seemed like the best in my life, was because my following years of existence were so desolate and dreary in comparison. They plummeted on a down hill slant ever since that week in Wabana, when on the car ride back somebody reminded me that I'm a girl.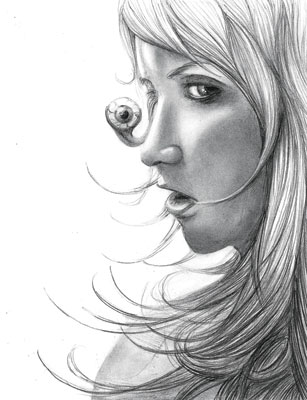 © Jessica P., Bethel Park, PA