The Story of Angels
November 12, 2010
I was falling. Falling through the air, my body was searing with pain. My back was born with flesh and my own blood. Feathers, the feathers I thought I would have forever were whooshing past me. They were drifting down past the grey clouds each one making what was left of my wings decrease in size, becoming more and more frail; ruthlessly, that's how they tore my sleek black wings from my back. Leaving me freefalling past the air, and through the sad clouds. I couldn't feel the tears that never came and I couldn't see her coming either.

She grasped my hand holding fast to each and every one of my fingers. My stomach wasn't dropping anymore. She was using, risking, her own wings to save a now fallen angel. That's how I knew she loved me. She turned my gruesome body to face her and I stared at her golden wings. They were not only gold though; they were the sweetest cream speckled with the richest brown. At the tips, that's wear they were golden. She was a true angel spending her life in heaven and becoming the holiest of them all just so she could save a trader like me. I could see the pain and love inside her eyes. Pain because she would end up like me, freefalling without any wings. I knew there was love because she came for a scumbag that stupidly gave up everything for reasons I can't even understand.

Through it all, we would spend our time on Earth trying to find ways to get our wings back, together though. Together we would roam the dirt among the humans. We loved each other, that's all that mattered. One more thing though, she would fall and I couldn't help her. I saw that in her eyes too. She knew that she would have to face the tearing of those spectacular wings alone. She would have to face the fear, falling, and the landing all alone. She could help me and I couldn't help her, it was killing me.
"Grace." My voice was raspy, the words sorrowful.
"I know," She said it with such sympathy like it was me who would have to loose the wings. I saw tears escape under her eyelids, streaming downward across her perfect skin. I looked down to see the trees under our feet. Cautiously Grace nestled me in a low branch, leaving to face them, the Arch Angels. Before I knew it she was gone and I could sense her terrifying screams. There needs to be something I can do I thought. Her screaming became louder, my senses boiled over in agony. I have to find her and catch her when she falls. I listened to the cries Grace let out, I followed them. It must have been not even two hundred paces before I saw her slipping through the atmosphere. I watched her falling with a plume of beautiful feathers. I didn't have to sense her screams anymore; I could hear them loud and clear. My arms outstretched as she slipped closer. Her hair was whipping angelically against her face letting gravity take over. She started to scream louder and louder realizing the ground was coming closer. I caught her. I held her in my arms wrapping them tightly across her body.
"Christapher," she whispered, "you saved me."
"No, you saved me…I'm sure."
Then it's just Grace and I, holding each other, in the arms of forever.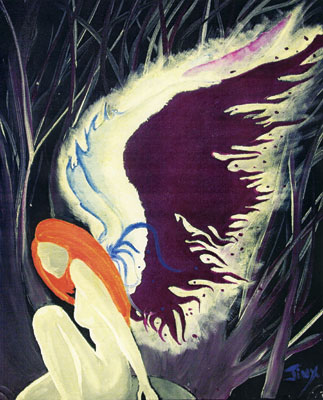 © Megan B., Youngstown, OH