The Same Wish
February 2, 2011
She carefully pushed the door open , so the creak wouldn't give her away like it usually did.

Not daring to peer through longer than a few seconds , she quickly peeked through the gap and drew back.
He was working.

He always was. She closed her eyes and a smile stretched across her face. He always surprised her.
She was never right about what he was upto and she liked to be wrong..

But today was different,
Not unlike a few others , but stood apart from the majority - the days when they laughed together...

She opened her eyes and heart thumping furiously , decided to peek again. She HAD to talk to him today. It HAD to be different this time.
As she fumbled with the knob she heard the chair being pushed back inside the room.
He was getting up.
Would he come and check on her ? She waited and closed her eyes once again.

It was over before she counted twelve heartbeats. He was back to work.

Tears clouding her eyes she forced herself to stop them and bit her lip.
She opened the door and walked in and hurriedly said 'I really need you right now.' before the fear would take over her heart again.

He turned around slowly as the door shut with it's usual creak and click..
He knew where this was going and was wary as he could clearly see the tidings building up inside her gradually reddening her beautiful face...

She opened her mouth twice but restrained herself fiercely. She told what she had to. It was his turn now.

He smiled to himself at her indignation but did not let his amusement escape as he said quietly , 'I'm right here.'

She felt like she had been rushing through a rapidly declining hole and thudded to the bottom before she expected to.
So , that was his answer. Always his answer.

She forced herself not to contort her face. The effort made the tears threaten to spill over again but that didn't bother her anymore.
There it was again. Just the one thing she couldn't get out of him... Getting him to overreact to her please was the one longing that never came true.

He never understood her need. Did he feel this was too trivial ? Would she come to him it were ? Did he not love her enough to understand what she needed right now was his deep soothing voice and his ringing laughter as he hugged her and playfully ruffled her hair..?
Wasn't she always there when he needed some ?

She pulled herself out of the cascade of unpleasant thoughts and only stood there long enough to let him see the disappointment on her face before turning away.

Every step she took , distanced him from her.. her heart kept prodding her continually to run back and hold on to him. But she pushed those thoughts away and let the door fall.. with it's usual creak and click and closed her eyes.. As he opened his inside the room... a tear clinging onto his lashes...
If only his sally had run back to him held on to him today... It would have been different from the few days , that stood apart from the majority - when they laughed together...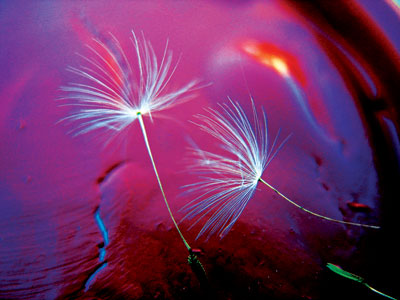 © Jamie R., Boulder, CO