County Fair
August 1, 2011
The annual county fair was like it was every year. Temporary stalls for the "prized" animals, shaded stand that sold anything for fruit to window treatments. Everyone wore shorts, tank tops, anything to escape the hovering heat that filled the little town of Anderson. The old Ferris Wheel and Carousel were dusted off and set up for operation. The paint on them was nearly done peeling off, the animals on the Carousel were twisted and beat up, the seats on the Ferris Wheel were carved on by generations of sweethearts who rode it together.

Russell strutted around the fair with his group of friends, "The Big Dogs" as they jokingly called themselves, being followed by the normal gaggle of giggling, sweaty, girls whose makeup was smeared from the heat, and hair frizzed slightly, despite the heavy amounts of hairspray they applied. They bought homemade root beer and deer jerky and Russell ate them mindlessly, even though the root beer was flat and the jerky was chewy.

He stopped at a stand to talk to his grandfather, who was selling tobacco he had grown in his own backyard. After bribing him out of 20 dollars, Russell turned from the old man and stepped out of the shade. He glanced around, wondering where his friends would be.

"Probably the animal pens," he thought to himself. He turned to walk towards them, but froze at the sight of a lone girl standing in the shade of a lemonade stand, sipping an ice cold beverage. Her sun kissed skin glowed and her long dark brown hair was slightly curled. As far as he could tell, she wasn't wearing a load of eyeshadow and foundation. She looked cool, collected, she didn't give away that the heat was bothering her.

Without thinking, Russell closed the distance between them casually, smiling at her when she noticed him heading towards her.

"Hi," he said stopping about 2 feet away from her. He didn't feel like playing tough guy at the moment, he just wanted to talk to her. Her dark green eyes inspected his face, and he prayed he didn't look sweaty or had dirt on his face.

"Hi," she replied after a moment of silence. She sipped her drink and smiled at him.

"I'm Russell, are you from around her?" He asked, knowing full well he would have heard about her if she was.

"No, just moved here. I'm Sofia." The name reminded him of an angel.

"Sofia, that's a pretty name," he hoped she wouldn't think he was lame.

"Russell, that's a handsome name," she laughed a little, making him laugh, too. When she said his name, his heart jumped in his chest.

"So, do you know anyone yet?" He asked casually, stepping a little closer to her. She shook her head. "Just you."

"Ok, let's go, I'll introduce you to my friends." He grinned and she gave him a smile that looked so natural and beautiful he nearly tripped over air as he led her towards the animal stalls.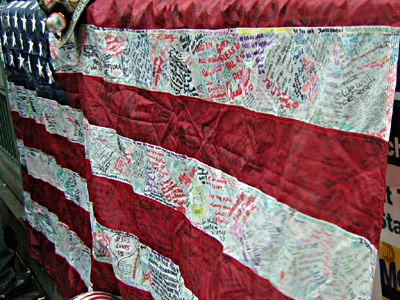 © Brittan S., Chino, CA