A Cliche Love
August 5, 2011
She didn't want to believe it. She didn't want to be another one of those girls – the girls that had to literally steady themselves when he walked by them, pulling them as forcefully as gravity into the aura of his gorgeousness. They were the girls that she'd quietly mock, proud of herself for not morphing into another copy. But now, whether she liked or not, she found herself thinking about him a lot. A giddy smile would take over her mouth, a distant look in her eyes would form, and clumsiness would rebirth stronger and stronger each day in his presence. She had fallen hard and she hadn't even breathed a word to him! But...
The way he was perfectly tall, but didn't loom over everyone.
The way he would smile with confidence, but not so much that made her automatically roll her eyes like so with the other proud guys that strutted through the halls.

The way his sandy brown hair placed itself messily, but perfectly around his face, hiding his eyelids, but letting his brilliant eyes shine through.

The way his eyes of magnificent colour bore into hers which paled in comparison whenever they crossed paths in the halls. She swore that there was a new shade of blue invented just to fit his flawless face.

It was all too much! She couldn't stand it! His perfection was driving her crazy and she was just about to snap – the same way she'd snap out of her daydreams of him in class. It would always be the same one with him holding her hand, flashing that smile, leaning in close, and then SNAP! She'd whip her head up, catch sight of the golden beauty that was the back of his head. She was privileged and cursed with seeing it in every single class. It would always end the same with a rueful sigh and the constant thought, 'Why him? ...Why ME?'

She was smart enough to know nothing would ever happen between them because of who she was. She was the quiet girl that would cower away when the cheerleaders paraded by. She was the shy girl that dreaded public presentations because it meant letting the rest of the class acknowledge her existence. She was the tiny girl that was in danger during the hallway rush because of the many bigger bodies going in crazy opposite directions.

She was the low life nobody that did okay in school, just strolling through, waiting for the day to be over, and unexcitedly waiting the next one to begin. He was the big shot popular guy that excelled in everything, loving the attention, and happily awaiting each day full of smiles and general love from everyone. There was nothing to hate about him.

She was her and he was him.

A hopeless crush.

An untold love.

A silent adoration.

A total cliché.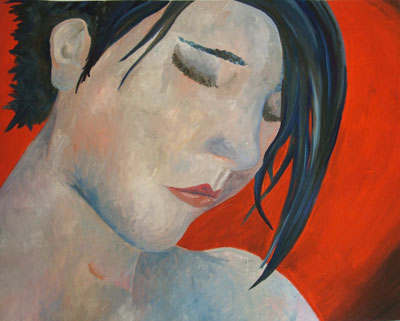 © Lindsay S., Billings, MT