It's there
October 11, 2011
"And there's the head," The doctor points to the large misshapen mass on the screen. "Do you want to know the gender?"

I shake my head, knowing the gender would only make it more real, I wouldn't be able to stop myself from coming up with names and nursery colors. At least this way, it was just like another body part. Like an appendix, it doesn't really help me but it doesn't hurt me. It's just there.

"Do you need the receptionist to call a taxi?"
"Oh," I look up at him, I guess I had just forgotten he was there. "No I live a few blocks away." I didn't, but he didn't need to know that.
"Is there anything you want to talk about?" He smiles, like he actually expects me to say something. Like he thinks I'll open up to him and he can save me from the downward spiral that I was bound to start. It would be like one of those corny inspirational movies.
"No," I fake I smile. "Can I go?"
"Do you want to schedule your next appointment?"
"No."
"Do you need our number?"
"No."
"Oh," He looks a little troubled. "You can go then."
I nod. I try to slip out without the receptionist seeing, she reminds of my Grandmother, it makes me wish my own Grandmother wasn't ashomed
Too late, "Have a nice night sweetie." She calls just as I'm about to leave.
It's cold outside, the dark October night has already fallen below freezing. I hug my sweatshirt tighter around me. I really don't know what I'm supposed to do now. I can't go home, there's really no place. All of a sudden I can't help letting a sob out. I squeeze my eyes shut, letting the tears roll down my cheeks. I sit on the bus stop bench, even though the buses have stopped by now.
I pull me cellphone from my pockets. My fingers stumble over the numbers and I have to retype it many times. "Hey, it's Megan."
"I really…" My voice cracks, but I hope he doesn't notice. I choke on the lump in m throat, trying to shove it away.
"At the bus stop by the free clinic."
"Thanks." I hang up the phone quickly, before her can hear me cry.
I hug my sweatshirt even tighter, then release when I feel the movement inside me. The wind blows even harder against me. At least it covers the sound of my crying.
It seems to take forever for the old grey pick-up to pull up in front of me.
"Hi." He says in a neutral voice. The coldness in his voice chills me more than the wind.
"I didn't know who else call." I climb into the passenger seat.
"Do you need a place to stay?" His face seems to have aged in a few months, like he hadn't gotten enough sleep, for a while.
"No, I'm staying in my cousin's dorm room." I say, bowing my head in shame.
He doesn't respond, or even look at me. That's all a want, a glance, some acknowledgement that he knows I'm here. I want him to forgive me, I want him to love me, or at least not hate me. I had no right to want that, not after everything I did. I stared shamefully and my abdomen, for a long time. What happened was meaningless, so didn't that make it meaningless. Then I feel a sharp kick and know I'm wrong. Once it's born, I won't be able to help loving it. Even now I can't bring myself to part with it.
Flurries of snow start to fall from the sky, quickly turning the world pure white. It'll melt by morning, but now it seems like it won't leave until April.
He pulls over on the side of the road, and sighs. The flurries begin to burry us. There's no out now, we can't just sit here, but we can't keep driving. We're isolated, the windows are caked with snow it's like there's no world outside the pick-up.
He turns the car off, soon it becomes cold. I can't help hugging it, I don't hate it and I never will. I just hate where it came from. I wish he cared about it as much as I did. I wish he ha reason too.
"I still love you." I say. It doesn't help, if anything it makes me feel worse.
"I wish that were true."
"I…" But, I don't know how to respond. I think I'd feel the same way, but I'm trying not to acknowledge it.
"You can't expect me to believe you after everything that's happened." His voice chokes at the end.
It makes me feel even worse. I try not to cry, but I eye feel my face warming with tears.
"I'm sorry." It's true.
"Thanks." He doesn't move for a long time. I feel the heaviness of the wet snow settle around us.
He starts the car again, even though the road is now dangerous with layers of snow.
"I love you too." He mumbles. It's so quiet. I think I've imagined it.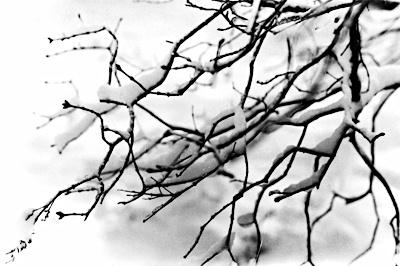 © Lindsey D., Marblehead, MA