Dani Rose
October 16, 2011
I sat with all the other rejects and some of the goths on the bleachers. I am not a reject. This was going to be too much. I had told my friends for weeks I did not want to come to the Haunted Homecoming Ball. I would have to see Gabe. Gabe was a senior varsity player, he would have to come to this.

I looked around the gym full of slow dancing, love struck teenagers, when I saw Gabe dancing with the Homecoming Queen, Jessie. I felt tears in my big blue eyes and I was then great full for the dark gym. Just go outside, get some air.

I crossed the Halloween decorated gym, and as soon as I got outside the gym doors, I made a break for the outside. The tears were now running down my face. Great..., just fabulous.

The outside was freezing and my dress was not going to keep me warm. I left my phone inside the gym. I wasn't able to call my mom to pick me up, so I started the 15 mile walk home, in the freezing cold October wind. Are you stupid? go back inside Dani! But the thought of Gabe and Jessie made me sick. It's been over a two since we had broken up, but I loved him still. He was my best friend since we were in second grade, now we barley get a conversation by ourselves anymore. We haven't texted in two years. Once he asked for an assignment over a message, but then said good-bye as soon as possible.

And now I was walking alone, in my dress I had bought to show Gabe I was pretty. And I was pretty. A lot of guys had looked at me and said,"Wow, you're gorgeous", but their girlfriends came to fetch them away and turn their short minded attentions to themselves.

I heard some footsteps behind me. I was barley out of the parking lot when I heard, "Dani! Dani! Dani just stop there." I obeyed and turned to see an out of breath Gabe running toward me. "I saw you leave and I noticed you forgot your phone." Gabe handed over the small pink phone to me. The tears had blended in with the rain that had started coming down a minuet before.

"Thanks." I said in a quiet, shy, voice. "Well see-ya." I started walking again.

"Where are you going?"

"Home Gabe." I spoke without turning around. The tears were coming down again. It was his voice. His voice that had told me that he'd loved me a long time before.

"Dani." That voice again. It chilled me to stop walking. "Dani come back inside... Dani." His foot steps were so close. I could feel him right behind me. His hand was then on my shoulder. I turned around to see him looking into my eyes. He took his hand off my shoulder. We sat in silence for a few seconds. Then I felt his hands go to my face and his lips against mine. He lifted me up into the air and twirled me around as we hugged.

"Dani. I love you so much. I always had. You're beautiful. Stunning. And if you take me back, I will be the luckiest guy in the world. Dani Rose. Please. I know you saw me with Jessie. It was nothing. I saw you leave and, I had to get to you. You're the only one to make me happy. Dani, I love you."

"Gabe..." I kissed him again. The rain was pouring on us now and my hair, make-up, and dress were ruined, but I had Gabe. I had Gabe.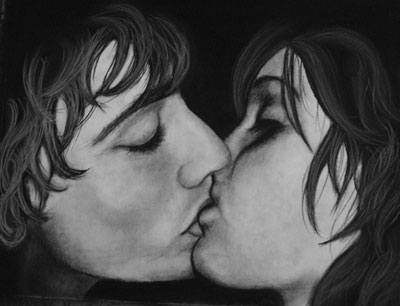 © Anna Y., St. Robert, MO