Under the Winter Trees
February 15, 2012
"Close your eyes." I felt his hands on my shoulders as he guided me someplace. He stopped. He wrapped his hands around mine and dropped a small something into my open palms. I snuck a peek at what he was doing.
"You peeked!"
"Did not!"
"Keep your eyes shut," he said laughing.
"Alright you can open your eyes." My eyes shot open and my mouth dropped.
It was dark out, and moonlight shimmered on the ground through the bare trees. Our breath blew out of our mouths like warm swirls in the cold night air. I opened my palm revealing a small chocolate kiss. I stared at it for a moment then looked up into his face. His soft chocolate brown eyes stared lovingly into mine. His face was so close and it made my heart race with excitement and something else. Something I couldn't quite put my finger on. Something special, but that was all I could tell.
"Happy Valentines day," he whispered. His breath was warm on my face and his soft hand held my cheek. He leaned closer and kissed my lips ever so softly.
"I love you," he said. I smiled because I noticed something.
"I love you too."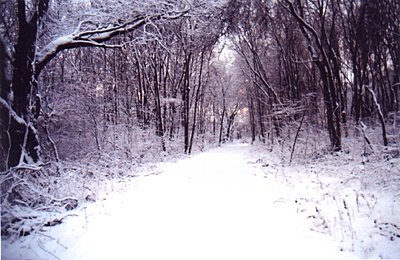 © Thomas W., Scituate, MA