Second Time's the Charm
April 24, 2013
You leave me speechless; sometimes, I don't even know how to describe what you are to me, and how I fell about you.
See, in the part, I haven't exactly had smooth experiences when it comes to these sorts of feelings. I guess every teenage girl claims the same thing: he was her first love, but he never fell for her, and she'd do anything to be his…something. And you know what? I'm sure most girls who make this claim have had it just as bad as I have,
What's different about MY story, you might ask? Well, after five long years of constantly feeling like I was never good enough – after believing I'd never be right for anyone – I fell for you.
First and foremost, I want to thank you for being my second love. I know you don't know how I feel about you, but I wanted you to know that, after I finally got over him, I thought I could never feel anything so strong for anybody else, ever again – and that's when you changed everything.
The first thing about you that caught my eye was your laugh: your great sense of humor and optimism present me with a warm, hopeful feeling that I never had before I fell for you.
Truth be told, I never used to think of you as an "attractive" guy. You were always just simply sweet. But after I fell in love with your personality, I couldn't get the image of your big lips out of my mind, wishing they were pressed against mine. I still can't seem to forget the deep blue your eyes turned when we sat in the sun. And most of all? I can still feel the warmth of your body spreading all through me as we laid down with my head on your chest. I think that's when I first realized I was in danger of falling in love with you.
From there, it only got better: your tight hugs are my favorite greeting, and your smile lights up the whole room. When you look at me, it's like everything else around us disappears, and we're the only two left on the planet. You reach out to me, and I don't have to chase you, or worry about you; you're smart and know when to be serious, but that doesn't stop you from being the happiest and most lively person I have ever known. You set me free of my tension so that I can enjoy this life that I only have a hundred years to live, at most.

I used to think a hundred years was such a long time, and wondered what I'd do with all my time, trying to live up to other people's expectations, but when I fell for you, I realized that a hundred years was not even close to enough time to spend with you. I want to have every experience possible with you – I want us to have it all.
I know you don't know I've fallen in love with you, and in truth, I'm scared for you to find out – but if you do, I hope you realize how much I love you – for making me appreciate life, and who I am, and most importantly, for making me believe in love again; it really takes someone special to change a girl's life the way you've changed mine.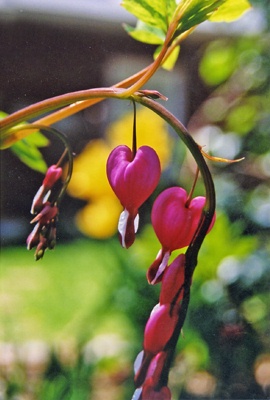 © Sophia E., Wilmington, DE