The Nightmare
November 30, 2013
He ran up the wooden stairs, stopping at the top to catch his breath. That's when he heard it. It started as a muffled sound, barely audible. However, the longer he stood there the clearer the sound became. He froze as he recognized the noise, Katie's scream.
"Katie" he breathed as another scream pierced through the house.
He ran, barely thinking about who or what could be in there. There was another scream followed by a loud bang. Nathan flung the door open, turned on the lights, and scanned the room for an intruder.
Katie looked over at Nathan, her dark brown hair sat matted against her face, her dark brown eyes looked sad.
"Sorry, bad dream." She said looking down at her trembling hands.
"It's ok," he said, "try to sleep."
As he turned around to leave he felt his heart sink in his chest. After a year the dreams hadn't stopped, and by the sound of it they were getting worse.
"Wait," Katie said before he flipped the lights off. "Nathan will you stay with me? Just for tonight?"
He smiled, those were the words he'd been waiting to hear. Nathan laid next to Katie and held her as she rested her head on his broad chest. His heart beat faster as his hands played with her damp hair.
"Always." He whispered in pure bliss.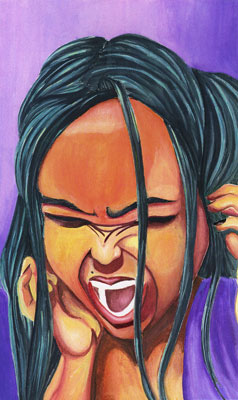 © Kriztille J., Briarwood, NY