Leaves
June 1, 2009
Outside, the sky is a gray mask. Gaiety has fled in desperate haste, leaving an empty husk of a world behind. The birds have flown away, and the cries of infants die on frozen lips. Even the leaves bow to this mysterious call for silence. Not a whisper passes by.

I open my mouth. The air tastes dry and brittle – empty. I breathe. The heavens smell of nothingness – oblivion.

This is a land of empty homes and empty lives. Buildings sag to the ground, trodden from tedium, and sigh in defeat. The roads wind, endless, through hills and plains and broken valleys, tumbling down to kiss the blacken jetties below. Everywhere, dust settles slowly, thickly – infinite.

Below my feet the earth crumbles in quiet hesitation. I hang on a precipice, suspended between barren lands. I must move, but the wind waits. I wish to fall or walk away, but the sky stares.

I tremble at the stillness.

There thrives a world far from here, I know. In that giant and distant world, the sun slices through knotted branches and burns the rims of treetops. Colors dance with languid ease and die, livid. The wind wails. The children cry. And the air screams its existence at the sky: "I do, sir, too live!"

Everywhere, there is movement and meaning and braying sound. Silence is forbidden, stillness forsaken. In this land of violent existence, of deliberate excess that is harsh and demanding all at once, there simmers a brutal need for affirmation.

Is it better, then, to be flawed but fearless?

I balance between staleness and stillness, trapped in a senseless state of being, and wait for leaves that will never fall. The world sifts through the cracks of my fingers, and I grow weary. The earth cannot move beneath my feet; I must move myself.

I do not wait for the wind. I do not bow to the stillness. I step off the precipice.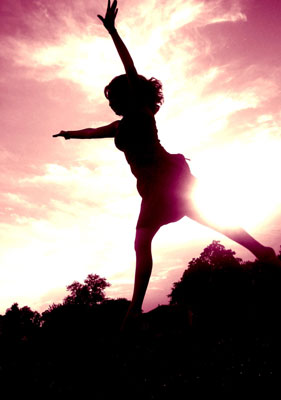 © Martha V., Morton Grove, IL