The Triphobes
June 19, 2009
After we had left the Kyklope's island, we encountered the Triphobes as we made sail toward Pherai to supply ourselves with rations necessary for the remainder of the voyage. We sailed for three long days and three long nights until Dawn had spread its fingertips and lit up the heavens on the fourth day. We made sight of land a few miles away, so we made no argument and hastily drifted our weary bodies toward the coast where we could vaguely make out tall cypress trees and other variations of foliage, now that we were closer. We spotted a cove where the waters were calm and the shore was sandy, and rowed with the last energy we had to land.

The place we had arrived in was thickly covered in foliage foreign to us, and there seemed to be a very pungent yet sweet aroma that of which we could not place. There seemed to be no life on this tropical island in spite of the tall growth, and we found ourselves in a deafening silence. There wasn't a breath of the wind; not the song of a sea bird; we had found ourselves in a unscrupulous paradise.

I took this shocking opportunity to address my shipmates and announce, "As all of you are aware of the current lack of rations, we are in need of finding civilization in hope that they will help us through this. A desolate and lush place we are in, we will need to mutually survey the terrain with caution. We are to report our findings without delay so that we are able to continue our voyage as soon as possible."

Having said that, we found ourselves walking through the twisted vines and brush for hours on end. At one point we had made it to the top of a ridge and Raphael, a trusted companion, spotted smoke rising from a distant hilltop. As we neared we suddenly noticed a strengthening in the penetrating aroma we had smelled on first arrival. As the thicket ended, we found ourselves in a clearing where we were immediately a group calling themselves the Triphobes took us into their structures. They were man looking creatures who had three arms, two at the side and one coming from the back over the head, and as far as we could tell were friendly gatherers. One strange thing about their faces was that they lacked a nose therefore a sense of smell as well. Here we were each given a small portion of indigenous fruit, and we became familiar with the Triphobes when the chief spoke.

"Travelers who come weary from travel, we are but humble gatherers of fruit and spice who are rarely visited by mortals. We had prophesized that we would be visited in this manner though by the Master Cultivating Dionysus, and were to warn you that where the sweet-smelling fruit of the Trempicolus tree grow is a place to be avoided until two days after your arrival, because if one were to get too close during this time, they would be overtaken by the cunning aroma, and it would be no use trying to save them for sake of your own fate. When they could no longer resist, they would consume the fruits, they would lose sight of all meaning and purpose in life, and die from the inability to stop frantically consuming until their innards burst out."

At this we returned to the ship and concluded that if we were to simply avoid this strange smell, then we would be safe to harvest some of the island's fruit with the Triphobe's consent. I found myself suddenly drifting into the gentle clutches of sleep, and I was suddenly awoken by a strange voice coming from seemingly nowhere but it was like listening to a new spring flower, glistening with dew on a crisp spring morning, open its frothy, delicate petals to the golden rays of beaming sunlight in hopes of finally gazing into the light of day. It was that of a goddesses'.

It said, "Fair Minded Odysseus, I come to you as the High Flying Hermes, bringing you dreary news from Zeus. You and your crew seek danger if you are to stay on this place any longer, for He does see a path of treachery and mutiny. Please take seriously this warning and heed to it, and leave this place forever. If you are to encounter danger for yourself or crew, use this transparent cloak and wrap it around your face and the deadly aroma may not affect yourself."

I arose quick and hurried up to the main deck to summon my crew and cast out to sea, when many of the men recalled not seeing some of their mates. We hurried back to the shore in search of our fellow friends, using our noses as our guides toward the concentration of the heavenly smell like a starving animal, seeking its prey, uses caution creeps through the shadowy cloak of darkness before finally finding what it has been searching for, and silently pounces upon that which is the unfortunate prey. Through the night we trekked through the foliage and eventually found ourselves coming very close, so I told my remaining crew to stay behind as I applied the cloak to myself. Through the fabric I could see eventually my missing crew laying upon the ground sucking on succulent Trempicolus fruit, mumbling merry tunes to themselves while they ate. One at a time I pulled them out from under the trees and placed them with the other crew members, yet each time the pitiable and infected crew members would beg not to be taken from the spot and wished only to lay where they were until death. As each of them were no longer surrounded by the aroma, they came to their senses and finally were eager to leave.

So as we were returning to the ship, we stopped again at the small village to thank them for their hospitality, and were given a large portion of rations for us to enjoy on the remainder of our voyage. As we made sail from the desolate island, we left with a smile upon our faces and never again did return.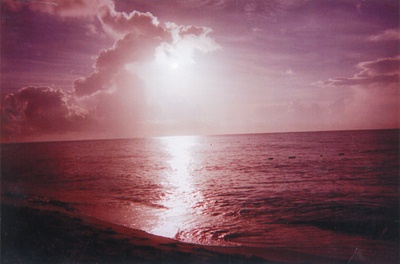 © Angela F., Bonham, TX