La La Land
September 26, 2009
You know that place everyone drifts off too once in a while? Whether their daydreaming or simply thinking about some other parallel dimension that may or may not exist? A fantasy world, in other words. Yeah. I like to call that place: La La Land. Anything can happen in La La Land. It can look like anything in the world. Just add some imagination and voila! A whole alternate reality awakening throughout your mind. Anyways, your probably wondering when I'll move on with the story. I don't want to waste too much of your invaluable time. So let's continue.

Hi.

My name is Naomi. Sweet and sour 16, rebellious adolescent, and proud resident of La La Land. I give in to my infatuations and daydreams about 25 hours a day, 8 days a week. Hey. I did say anything was possible in that world. Sometimes, I tune out completely whether its during school, at home, or when I'm with friends.

My best friend, Emily, would always have this snide comment during these times, "Oh, look. We've lost Naomi yet again. Naomi? Still in La La Land?"

My parents, on the other hand, were not so amused by this. "Naomi, weren't you paying attention? I swear. Where is your head nowadays?"

My older brother would smack me on the back of my head and insist that I come back down to reality. I'd listen, of course, he's my older brother after all. Then, when he was out of the room, I'd drift back into my imaginary world.

Anyone who needs to use their imagination and creativity on a daily basis can empathize with me, or at least sympathize. One thing I love the most, other than dreaming, is music. Music is amazing because it helps enhance those visions taking them to the next level with actual sound effects.

You might be thinking that I'm weird. Don't worry. You wouldn't be the first and definitely not the last. I, myself, think I'm an oddball. There are some people who are so dense and close-minded that they can't even ponder about anything besides what is fact and what is real. Did the author of Dracula or Frankenstein dream about things that existed? No. Dracula and Frankenstein don't exist (I know, it's surprising isn't it?). Being open-minded has its advantages after all.

As this short story comes to an end (it is a SHORT story after all), I slowly drain back into reality hearing my mother calling me. So I have this small piece of advice for current and potential dreamers. When you drift off like I do, reach out and embrace the possibilities of what is not reality. Close your eyes. Open your mind. And imagine the impossible. Sounds bizarre, doesn't it? Will you stop reading this now and turn away? Or, as I reach out for you, will you take my hand and join me on the glowing pathway into La La Land?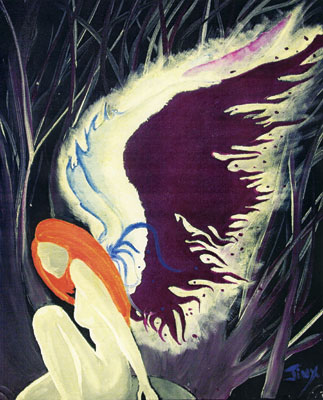 © Megan B., Youngstown, OH