The Girl in the Lace Dress
September 29, 2009
I was walking home from school one day. It was a Wednesday, so I was hurrying home to do my homework. There was so much to do, it felt like all my teachers had gotten together and decided to attack me with homework. I was walking with my head down, following my footsteps with my eyes. The sound of laughter caught my attention and my head snapped up.

Standing there, in the middle of the field, was a girl, no older then 8. She was wearing this beautiful lace dress, the kind that you would wear to an Easter Brunch. She laughed again, and I looked around for the kid's parents, but no one was around except for her and me.

"Where are your parents, sweetie," I asked, walking towards the girl. She just laughed and took off running. Alarmed that she would hurt herself, I ran after her. She ran into the woods across the street from my house. I followed her, which was hard. All the textbooks in my bag weren't helping me run any faster.

"Sweetie, stop running. I'm here to help you. We need to get you back to your parents. I'm sure they're really worried." She refused to listen, though, and kept running. Branches smacked my face and body, and I could feel multiple scratches bleeding. But, something about this girl made me want to follow her, I wanted to protect her, keep her safe.

She continued to run, and I continued to follow her, the green scenery of the woods flashing by. Every once and a while she would turn around to make sure I was still there. It's like we were playing a game. It reminded me of when I used to play flashlight tag with my neighbors in the summer. Of course that was a long time ago, all I did during the summer now was my AP work and my job.

Three years ago, when I became a freshman in high school, it was like my future flashed before my eyes. There were so many things I had to accomplish and excel at. I was no longer a child in middle school, I was an adult. Just like that I had gone from being a child to being an adult, and it felt good. Now following this girl endlessly through the woods, it gave me a nostalgic feeling, like I was child again.

When I did start high school, I never wanted to be a child again. Children were immature, and naïve. They couldn't do anything for themselves, someone always had to help them. It was like they were dependent on another life for their life. I wanted to be dependent on my own life, not someone else's. I never thought I would like feeling like a child again, but running through the woods like there was no tomorrow, made me wish I were in middle school again.

We came to a clearing in the woods. In the center was a big oak tree, and carved into the tree were the initials LH. My name. I remembered when I was ten we had my dad come out to carve them into the tree. It all came rushing back then.

When we moved here, there were no other houses around. Nothing except woods. One day while I was outside playing with my toys, I found a path, and blindly followed it. It lead to this clearing. I remember I spent the whole day there, and didn't come home until the police found me and brought me back to my very worried parents. I had been missing for eight hours, it was like I was in my own world.

I gently rubbed my initials on the tree. The girl laughed, she had stopped running, and was standing in a patch of sunlight giggling.

"Hey, you stopped running," I said, and started to walk over to her. "Now, let's get you back to your parents." I walked towards her and watched as she faded into the sun, and then disappeared. Her laughter hang in the air several seconds after she left.

I smiled. I sat down in the crook in the big oak tree, and started to do my homework.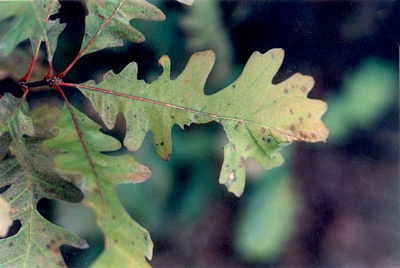 © Allison S., Eau Claire, WI