The Farmer's Album
September 12, 2009
A warm breeze sweeps across the farm. It carries with it the grotesque smell radiating off of the pigs that wallow in the mud nearby. A hawk circles in the distance, and gracefully but with finesse, swoops down into a tree.

The farmer sits on his front porch, and rocks in his old blue chair. It moans and cries as it feels his weight, not as strong as it had once been.

I am the tree that watches over the farm. I stand alone in the middle of golden waves of maize. My bark is old, but has a story to tell. My limbs stretch wide, welcoming any visitors that need a place to rest. My leaves are my hands that applaud the entertaining animals that pass me by.

The farmer gave me this home what seems like a lifetime ago. Since then, I have stood here; rooted to the spot; and flourished. My most favorite thing to do though, is watch the farmer. He is an old man. A wise man who knows that family is the only thing you need in life. I have learned about him, not through listening, but by taking mental snapshots of his life.

In the dead of winter, when I am bare and gray, the farmer welcomes his neighbors and family that are arriving for Christmas Eve. He sits and rocks like a boat on a peaceful, but restless sea. His face always lights up and deep wrinkles he has gotten from smiling, outline his eyes. A snapshot of him on his favorite holiday.

I have seen him handle his tractor like a trophy; proud and cautious. Seen him come out to the barn and cry silently until he is hidden in the shadows. Then the tears come hard and the sound clings to the wind as it dances through the starlit sky. It is so easy to feel his pain vibrating through the night that the coyotes howl and the crickets get louder in response. In the morning, he sulks out, his face maudlin and tear streaked. A snapshot of the farmer still grieving after losing his wife and only daughter in a house fire.

The fire. I remember that picture very clearly. The fire was very hungry. It came cautiously, on the sly. It began to lick the outside. It's taste buds must have went wild because all of a sudden, it opened its wide jaws, and roared. I smelled the burning wood and shuddered in fear of being next. I heard helpless screams coming through, and I wanted to run and save them, but I have no legs. I was just as helpless as they were.

I saw the ashes that the farmer came home to after returning from the field. Saw how the shock slowly dissolved into horror and I saw it eat him alive from the inside. That was the sad part of his story. That memory is theoretically tucked away in the pocket of my heart, never again to be taken out, for fear it would bring the pain along with it.

I am ready to take another picture of the farmer, to go with the rest of his life's story that I am secretly engraving in the grooves of my bark. In this snapshot, I see the farmer sitting. Just sitting. There is no rocking, and his eyes are almost closed. I would imagine that this is the part in his story where death starts to creep into him, inch by inch. Pulling him under with a gentle tug as his breathe comes lighter. I am going to be sad to see him go, but I know he will be at peace. He will finally be with his family. The greatest thing he had ever grown. The love between them. A final snapshot of his family.

The farmer knows that family is the only thing you need in life. I have learned about him, not through listening, but by taking mental snapshots of his life.

In this gentle September breeze, the farmer goes back to his wife and daughter.

I am the silent watcher. My album of the farmer is complete. I stand ready to begin a new one.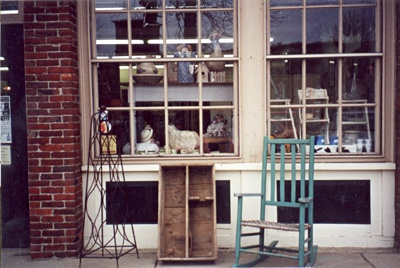 © Sarah C.,Dover, NH