F.S.A
January 22, 2010
Stephanie, fresh from her schooling had finally been accepted into the new high school called Franc's Surt Academy. She slowly walked towards her classroom where the passageway was long and terrifying. What no one knew was that Franc's Surt Academy actually stood for Federal Secrets Academy. This place was where children were trained to be top secret agents. Not everyone was chosen to study at this magnificent training centre for teenagers. Only the fittest, strongest and trustworthy teenagers could be trained.
Now back to Stephanie, she was a teenager who was one of the fastest runners in her primary school. As well as a black belt in karate, her father is in the CIA which she had never known until her first day at school. "Your father was a great man," was what the teacher said to them while they were learning maths. Maths seems pretty strange for an academy training future agents. What the test really was to see if there were still unworthy students to be kicked out. Those 'maths' questions weren't 3x3 you know. They were things like cracking codes that had a series of super complicated numbers. The test was designed to freak out, scare, panic and even faint people. By the looks of these tests, you can tell that not everyone actually did well. Most of the people failed to meet 75% and in the end 3 people were left.
Stephanie, a quiet blond haired boy with a calculating look on his face and another girl who had glasses that made her eyes bulge a bit were the only ones remaining. The teacher squinted at each of them in turn and seemed to be a little frustrated. Through gritted teeth, he exclaimed, "You have and all passed and now are part of the Federal Secrets Academy." "Yeah!" we cheered. "Don't get all happy about it," said the teacher, "Your first mission is..." The unmistakable vibrating of a mobile phone could be heard. "Sorry guys," said the teacher, "but looks like you all have a new assignment."

To be continued.....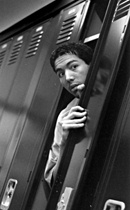 © Paulina A.,Marblehead, MA