Blood Shed
March 8, 2010
Today the average life span is 25,550 days. In all these days, do you even think or articulate what you really have? I do. It's been a while since…well I'll just tell you. In all the years I lived on this physical- astral plane, I have come to realize some aspects of typical human behavior. The thing is humanity is shallow as a stick, were blinded from anything real and we can blame the media, we can even blame the "superior's" of this realm, but we are the PEOPLE and we have forgotten our strengths and have become accustomed to our weaknesses. We live in a NIGHTMARE a huge NIGHTMARE. Hence, emphasis on nightmare, but it's the truth. Ah well, who what's the truth in this world anyways? Not many. Well now that I put a vague perspective on human behavior, I shall begin with mine. You shall see the truth.
There was a stifled sigh from behind me, as I turned around there was a dark silhouette approaching me. Then it stopped, warily. Immediately, I was in combat mode, ready for anything.
"So are you ready to fight little old me?" As she walked forward, her breathing was becoming heavy as the adrenaline passed over her proportioned body.
The figure was now staring at her----waiting for her to make the first move. But she didn't. She lifted her head up, smiling broadly to herself. "Well, well", Where have you been….for the um…pass fifty years?"After all this time she didn't think she'd see someone again, well from her breed of course.
"Lil, you got to stop this, they're going to find you eventually." As the figure stepped closer to her, she now could see its face, but she knew who this person was. She looked over him, trying take in his appearance in more. To sort of save this moment for a later memory.
"And is that why you're here?" I ask. "To turn me into the authorities, our superiors?"
"Yes, but it doesn't have to be that way."
"But what does that even mean." I persist, knowing that I couldn't trust this guy.
"That you cooperate or I make you come with me." His face was full of menace, but I knew I couldn't go back there. They would chew me up and spit me right out. I knew that there was only one solution. To fight or be killed.
"You do not want to cross me."
"And why is that? Let me guess, you changed, your better."
"Laugh now, but you will see."
He was off guard for those pass two seconds, and my chances. My advantages. I clawed at his throat circling around him once more. Looking for his weaker points. But he was instantly aware. Suddenly there was this mass invisible energy pushing me backward. THEN SUDDENLY IT BECAME ALL BLACK.
Suddenly, I was surrounded by red. Everywhere was red. I looked down at myself and I was swarmed in blood. It was me. It took a couple seconds before I realized what happened. I blacked out. Crap, I got to fight. Then right above me was him. Looking at me.
"Lil….Lil….." His voice was urgent. I couldn't understand why he cared. "I'm sorry…..I'm so sorry."
What is he doing?
Is he trying to pull me off guard, so I'll lose?
To hell with that. I swiftly got up, but of course how did that work out? I was too weak. WEAK. The word I hated most in the English language.
But it was no use…….
I was empowered with……….
WEAKNESS
That's all I become.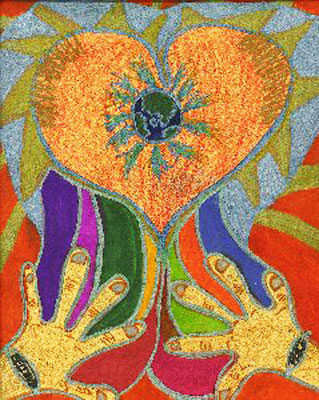 © Amanda P., Clermont, FL