Once Bitten, Twice Bitten
April 7, 2010
A voice behind the gray mountains screeched, held the high E for what seemed like eons. The group on the cliff of the tallest mountain shifted all their gazes to the dim-lit gray beyond.
The hollow sound of 5 empty, bloodless hearts thumped in the base of their ears. The leader, the tallest one, bent over the gray body he had destroyed, the blood clotting already around the head. He took both of his pale hands and held them firmly on either side of the victim's face. He stood directly over the body, his tall frame bent down over the center of the chest. In one movement that, to a regular person would have taken thirty seconds in counting, the leader of the group twisted his hands right and left and somersaulted forward in the time it would take to blink your eyes.
The leader, and the whole group, looked into the leader's hands in unison. There was the head of the single soul who dared to expose the true faces, the real identities of the group. He did not suffer.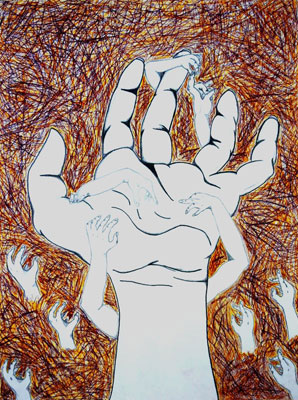 © Ariana R., New Orleans, LA