Another Angel (Prologue)
April 26, 2010
Fifteen years earlier


It was a stormy night in New York City, and most people where at home with their families discussing the day. The people who were outside were rushing home and didn't notice a young woman with a bundle in her arms. The woman had wavy blonde hair, and light blue eyes. She was sitting on the curb talking to the bundle. As it began to rain harder more people went inside, but the young woman stayed on the curb, talking to the bundle. Soon the bundle began to wail and the young woman stood up so suddenly that she almost ran into a businessman. "Hey! Watch it!" the man said.

"Sorry." The woman mumbled, then sat back down rocking and talking to the bundle, who's wailing had receded into a faint whimper. "Don't worry, I'll find a safe home for you, they will never find you." She jumped when she felt a tap on her shoulder; it was a woman, not much older than her. She looked concerned.
"Do you need a place to stay? You and your baby can stay with me." The young woman looked at her eyes. She had brown eyes. Brown eyes were good. Brown eyes were safe. They were human. "Honey, did you hear me? Are you okay?"
The bundle started to wail, yet again, and the woman held it out to the friendly stranger, "I don't need a place to stay, but my daughter does."
The stranger silently took the baby girl from the woman and cradled her, "Have you named her?" she asked softly.
"Yes, her name is Serissa Dare." The young woman stood up and walked away.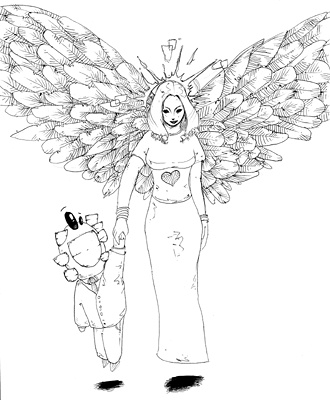 © Benjamin S., New Hyde Park, NY