Too Late
June 16, 2010
April 4, 2010: The day all our lives changed forever. It was a regular Friday night. Jessica and I were driving to the diner, like we always did. Danny and Kayla were in the back seat. We were cruising down Sunrise highway and then the sky went dark. Then, a clear blue light pierced the sky. A large craft lowered its self in front of us. We stopped and got out.
Jessica turns to me: "What's that sweetie". "I don't know, honey," I respond. The object comes closer. Little landing gear lowers and touches the ground. A small hatch opens on top. A robot with red eyes climbs out and starts towards us. "I've seen him before. In a dream I had," says Danny. I whisper to him, "And what happens next?" "I woke up."
It walks up to me and says "Hello, How are you?" It puts its hand out in friendliness. I notice a small green circle on the palm of the hand. I begin shake its hand. I feel a sudden shock as I approach the hand. I see the circle turn from green to red. I withdraw my hand and take a step back. I feel frightened and walk back to my car. The others quickly follow. We get in the car and I try to start it. It won't. The robot walks closer to the car. I keep trying but nothing happens. I begin to panic. He comes by the door. He opens it and drags me out of the car. I look up at the sky and see other crafts landing. In the corner of my eye, I see Jessica run toward us and jump on the robot's back. Other robots come running to their friend's rescue. I black out.
April 6, 2010: I find myself on a table with lights blinding my eyes. I can't feel my feet. I sit up to find that they are attached to a machine. All of a sudden I slide toward the machine. I look to my right and I see the robot from the other day, his big red eyes staring into mine. I panic but it's no use. The machine stops. I see my feet and knees being moved into a large tank with other body parts. I try to get free but I'm stuck and can't get out. I see a large surgical knife on a tray next to the table. I get it and cut my thighs free from the device. The robot lunges at me but I cut his head off before he can reach me. I see Jessica in the room next to me and make my way there and cut her legs free. We both scoot through the halls just to find the exit. I push open the door and we find ourselves in the middle of the island of Aruba. The people around us look like they just saw a ghost. Blood was pouring out of our legs and I found a towel to wrap them up. We go to the airport and find a flight home. As we enter the plane, there is an announcement in the airport. I turn around and see two guards approach us. As they get closer, I see that their eyes are bright red. Jessica and I start moving quickly.
It was too late.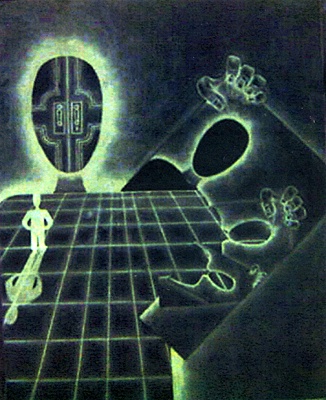 © Andrew P., Muleshoe , TX