Squirly Suprise
November 30, 2010
In Cablewoods, Nebraska lived a scientist and his squirrel. The scientist Seneca Ratner was a man with morals. If he had been the one to invent atomic power, he would not have shared it with anyone, this knowledge and appreciation caused him to keep such knowledge to himself. One day, Seneca was walking home when he saw a wounded Squirrel on the road. He took the squirrel back to his house to nurture it. When the squirrel was healed, Seneca felt a connection between with him decided to keep him. Seneca also needed a friend, and the Squirrel could fill that void.
For the next few months, Seneca worked on a machine that could enable animals to talk. When his talking machine was completed, he put it on Squirly. Soon, they became best friends. Seneca could have sold his machine to the U.S. government and made billions of dollars, but he had figured that his machine would be used in wars and decided that it wasn't worth it.
When speaking Squirly convinced Seneca to give the device to his girlfriend, Molly, and his brother, Sandy. Squirly and Molly have been together for the last 3 or 4 years. Squirrels are usually promiscuous, but Squirly and Molly have adapted to human culture and are in a monogamous relationship, like humans preferred. Most squirrels only live until they are 7 years old, but since Seneca is looking after Squirly and his friends, they are already 6 years old and very healthy. Life pretty much can't get any better for these furry little animals.

One normal summer day, Squirly went to visit Sandy's tree. When he found the tree, he heard a low sneeze; the sound was undeniable: The mating call for grey squirrel. He figured something was wrong because his brother had said he has already mated twice this year, which was normal for his species of squirrel. When he went into the tree, he couldn't believe what he saw. There was Molly "burying Sandy's acorns."Squirly ran out of the tree and back home. He sat in his room for the next week without making a noise. He refused all visitors especially Sandy and Molly but Seneca as well.

After a week of self-conflicted solitary confinement Seneca was getting worried about Squirly. He went into his room to talk about the whole situation, when he found a note that said-
Dear Seneca,

I thank you for all that you have done for me. But I realized my time here has passed a long time ago. One squirrel can't be caged up for so long. I need to go express myself. I will miss you old friend.
Love, Squirly

When Seneca read this, he was destroyed inside. Squirly was his only friend and he would be really lonely without him. He would try to find him and never give up. He realized that he put a tracking device on his talking machine just in case one was ever stolen. He hoped Squirly was still wearing it. The first thing next morning, Seneca hopped in his hover craft and went to look for Squirly. After finding his location on the tracking device he went into turbo speed.

Seneca was hovering around Cablewoods when he found the speaking machine. It was right next to a giant oak tree with a knot hole way on top. He had figured that Squirly had climbed up that tree and was sitting there as we speak. And so, Seneca started climbing. When he reached the knot hole he looked in, and there was Squirly, 10 pounds heavier with a pile of walnuts sitting in front of him. Seneca instantly picked him up, climbed down the tree, grabbed the speaking machine and went home.

Seneca wanted to speak with Squirly about what had happened and tried to help him, but the machine was broken. It had taken Seneca two weeks, to rebuild the machine. During those two weeks Squirly was in his room with his door locked and his windows closed shut, because Seneca didn't want him to leave before he had a chance to talk to him. After the machine was fixed, Squirly was let out of his cage and Seneca had an intervention for him. He talked about how it doesn't matter that Molly was cheating on him and that squirrels were supposed to be promiscuous and Molly was just doing what was natural. Squirly understood, but it took him a few weeks to get over what happened. When he did get over it everything went back to normal. Molly and Sandy even apologized and Squirly accepted their apologies. Seneca had taken the talking off machines Squirly's companions and locked them up in case Squirly's machine had broken and he needed another one. He had decided that Squirly was the only animal that deserved to talk because he had adapted to human ways but Molly and Sandy were simply not ready. Animals just weren't ready to adapt to human ways.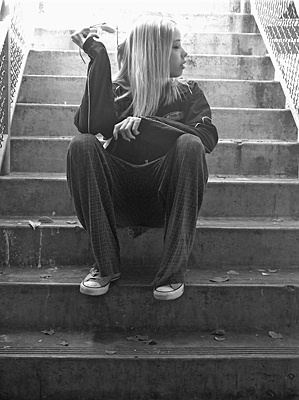 © James M, Walnut Creek, CA