Bloody Truth
January 25, 2011
The chills of the dark night itched up my spin. The moon shined as a night light over the world. There were no sudden movements, no shadows lingering in the night. The cold lifeless gray tomb stones lie like a gridded map as I slowly made my way across the cemetery.
Everything was still, too still.
I yelled, "Mason, where are you?"
I suddenly heard a crunch behind me. I spun around to see a tall, human figure that stood darkly in the misty fog like a black ghost. I paced up to get a glimpse of the character. It was Mason.
Mason's eyes were darted at me angrily and heaved air into his mouth. Dark red blood shined in the moonlight as it dripping on to the ground. His hands bathed in blood.
"Mason?" I stuttered
He stared at me as if he was reading my soul.
He grumbled, "It's over Mary, tell me the truth!
With a blink of my eyes, Mason was in front of me. I gulped.
"Tell me the truth!" he repeated, being inpatient, "If you are what I think you are, tell me!"
I closed in near is neck. I looked into his eyes.
"Are you a Vampire or not?" He finally asked.
I slowly opened my mouth and sunk my knife shape teeth into his warm flesh. I finally let go
and backed away; blood drained from my lips, whipping the blood with my sleeve.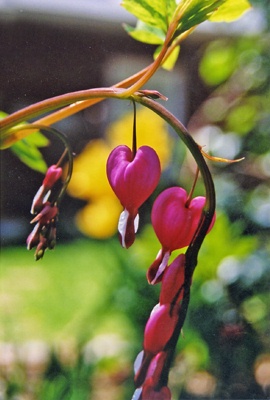 © Sophia E., Wilmington, DE