Creation
March 24, 2012
I find myself in a dark, caged world. Grey walls cover this world, but a dim light squeezes through the faraway window. Broken toys, dolls, and other knick knacks shelved high above the space around me, staring at me with melancholic eyes, a curious interest.

My arms won't move and my legs won't work. I am an empty shell, tossed away into the darkness. Somehow, I can sense and feel things no one else could. I feel the melancholy and sorrow of a world that was once alive.

Clang! Clang…Clung! A little girl hunches over a metal object, lying on a stool. Quiet murmurs whisper from the distant corner. Clang! Clang! Clang! She holds a rusty hammer that had gone through many times of smashing. The object emanates a mystifying light.
Clang! Clang…Clunk! The girl hammers the object with intense concentration in her dark corner. Her dusty, sandy hair ruffles as she hits the object, strike after strike. Her body is as thin as a twig, as she wears a woolen sweater covered with dirt, her face covered in grime, and her eyes, sleepless. Her hands are covered in dirt and scars, with years of neglect and abuse. Feverishly, she continues to pound the glowing object.

Clang! Clang! Clang! She stops hammering and gently picks up the object. The object vibrates as the girl slowly walks up to me. In her hands, is a glowing metal orb, emitting a mesmeric golden light that radiates a nostalgic feeling.

The girl bends down in front of me and opens my chest. Her dark eyes focus on my parts as she inserts the orb. She gives me a gentle smile. "There you go."

My chest feels warmer and my body as light as a feather. Slowly, I begin to feel a small warmth build inside my chest. Carefully, I prop myself against the wall and on my rusted legs. They creak and cringe every time I try to stand. The girl jerks and unscrews several parts to loosen me up, then grabs a small mirror sprawled out with the toys.

I take a good look at myself. My head is an iron grey bucket, with two punched out holes - the top was rusted; my arms, legs, and chest are corroded beyond repair. My hands, as big as my head, are twice the size of the girl.

She opens up my chest, revealing the golden orb floating inside. "That orb is what keeps you alive young one. Do not lose it." She closes it and hands me a sparkling diamond necklace; dangling delicately alone.

"Give this to the person you trust the most. Venture out into the world and explore new things," she says, "and don't come back until you do so. Go! Before he returns."

Brrrrrrmmmm. The ground shakes under my feet. Toys fall on the floor bouncing around as the rumbling drew nearer.
BOOM!
Quick as a flash, the walls break as the lonely world disappears. With her last strength, the girl forms a magical sphere around me.
Flash! I am gone.

I find myself lying on a rocky cliff, facing the vibrant sea shore. The waves roar as the winds howl through the ominous skies. The two burning suns blaze with brilliance over the murky waters. I turn around to face a dark castle, as high as the suns, perched in a nearby cliff. The empty world I was once in, disappears.

I open my chest to find the necklace. The diamond center shimmers with mystery. I grasp the necklace tightly in my hands, running across the seashore and into a deep dark world. I vow to myself that I would find that girl, and someday return to her.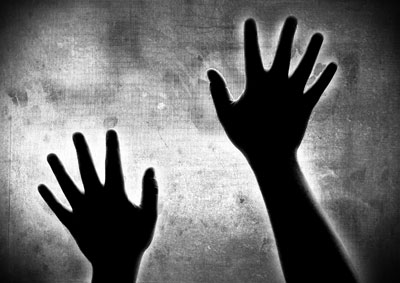 © Andrew F., Lake In The Hills, IL