To Be Free
February 4, 2009
I saw her step onto the balcony railing, perfectly balanced, as usual.
"What are you doing? If you fall you could, no will, be killed." I half-shouted.
"I won't fall." She said. She was still standing on the railing, facing away from me. "
"I know you have super human balance or something but you could still fall." I was concerned. Who wouldn't be? But it is different for me. For her. She stands on the balcony railing at least once a week, for about a minuet or two, then comes back inside like nothing happened.
But something about her seemed different today. Almost like she is in a trance or something. This was the first time since she started going out there, since mom and dad died, that I was afraid that she would jump.
I considered asking why she was up there today but I know what she'll say. Because her answer is always the same. Every time I ask she says the same thing. 'I'm just wondering what it would be like to be a bird, maybe a dove. To fly. To be truly free.'
I know the reason she wants to know. Mom always told us, when she tucked us in for bed, that as long as we believed, we could soar like we had wings. For us, manly me, that dream had died long before she did. But it reawakened in my sister when mom died.
"I want to be free." She said quietly.
"You are free. You don't have to do anything you don't want to." I told her, confused.
"No." She turned around to look me in the eye, without getting off the balcony. "I want to be free. No walls. No rules. To be able to do whatever I want. To be able to soar like I have wings, like mom used to say."
"I've told you before, those were just bed time stories." I said, trying to keep the panic from leaking into my voice but it is hard.
"They were not just stories, Big Bro. I wish you could be more open minded." She said. "But you'll learn to open your mind to the improbable, sooner or later. I know I did. But you'll see today. I'll show you." She told me with a sudden inspiration. "I was going to wait. Until there was more of a breeze, I mean. But now is okay too."
"No. Please. Don't jump." I said when I realized what she was saying. "Please, you're the only person I've got left."
"I'll be fine." She said with a smile. "All you have to do is believe, remember."
Then she closed her eyes and, still smiling, fell gracefully backwards into the open air.
I ran forward, my hand extended towards her. But it was to late. She had disappeared below.
I almost couldn't look. But the momentum of my lunge to grab her brought me to the railing. I looked down.
And she was nowhere to be seen. Instead the most beautiful dove flying up towards the balcony.
When it landed I saw the doves' eyes.
The eyes of my sister.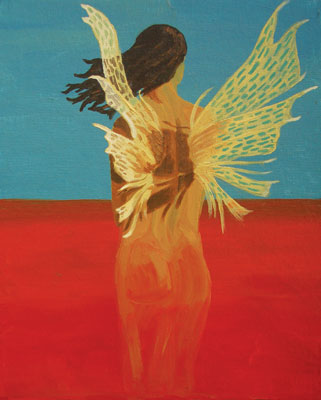 © Allison F., Langhorne, PA