Hawkeye -
June 1, 2021
INT. HAWKEYE'S APARTMENT - MORNING
CLINT BARTON aka HAWKEYE, 30 something, is just getting out of bed in the morning.
HAWKEYE
*Yawn* 8 AM already? Welp, time to get to work.
We then see Clint as he walks around his apartment, a basic and kind of drab place with not much other than the most basic items. We see him get dressed, brush his teeth, and brew himself some coffee. After he finishes that he goes over to his dog LUCKY and feeds him. There is just enough left in the bag to fill the bowl
HAWKEYE
Oh, are you out of food boy? I have to go to a meeting today, but I can pick up some on my way back. So, be a good boy and guard the apartment, ok?
Clint scratches Lucky behind the ears before grabbing his wallet and a backpack and heading out the door.
EXT/INT. BUS STATION/BUS - CONTINUOUS
Clint is seen walking out of his apartment building and over to the bus station just a little bit away. He waits there for a few minutes before a bus pulls up. Inside is a BUS DRIVER, 60 something, who lights up when he sees Clint.
BUS DRIVER
Hey, Hawkguy, where we off to today!
HAWKEYE
You know what? I'm not dealing with this today.
BUS DRIVER
Oh come on Hawkguy, don't be like that.
HAWKEYE
Under his breath
Don't let them get to you Clint, don't let them get to you
Hawkeye pays the fare as he walks to the back of the bus. There he sits down and we see a montage of driving across the city. The pass over the bridge into downtown and we see some of the sights there. The bus stops in a heavily commercial district where Hawkeye gets out and enters the building in front of him.
INT. NIKE HEADQUARTERS - CONTINUOUS
We see Clint as he enters the elaborate headquarters and immediately starts to go to the elevator. He passes a SECURITY GUARD, 40 something and stocky, who at first doesn't notice but then quickly realizes what is happening and grabs him by the shirt.
SECURITY GUARD
Hey man, I don't know who you are, but if you got business here you have to visit the front desk first.
HAWKEYE
Oh come on man, the award winning smile, the short blond hair, the purple, they have to remind you of someone, right?
SECURITY GUARD
I do not know what you are getting at
HAWKEYE
Oh come one, I'm Hawkeye!
SECURITY GUARD
I have absolutely no idea who that is.
HAWKEYE
Yeah, that tracks.
Hawkeye, a little bit dejected, heads over to the front desk. There we see a RECEPTIONIST, 30 something, who looks at him expectingly as he approaches the desk.
RECEPTIONIST
imagine Janine from Ghostbusters
Hello and welcome to Nike Headquarters, how can we help you today?
HAWKEYE
Hi, I have a meeting with...
Hawkeye pulls out his phone and scrolls back for a little while before snapping, clearly finding what he needed.
HAWKEYE
Foggy and Matthew, I have a meeting with Foggy and Matthew.
RECEPTIONIST
Alright, here is you pass to get to the fourth floor. The meeting room is the 2nd one on your right. Anything else I can help you with today.
HAWKEYE
Do you know who Hawkeye is?
RECEPTIONIST
No, I'm not really in to birdwatching.
Clint proceeds to walk his way to the elevators passing the same security guard who just nods him through. Clint sits through the elevator ride listening to the smooth jazz before exiting at his stop.
INT. NIKE BUILDING, FOURTH FLOOR - CONTINUOUS
While the place is clearly busy, nothing seems to be happening out in the hallways. Everybody is doing everything inside of rooms, nothing in the common space. Clint enters his assigned meeting room where he sees FOGGY NELSON, 31 and MATTHEW MURDOCK, 29 and blind.
FOGGY NELSON
Hey, there he is. The final member of our Avengers clothing line, how are you doing my man?
HAWKEYE
Not bad, yourself?
With this Hawkeye shakes both men's hands and then sits down across from them at a conference table.
FOGGY NELSON
I am feeling good this morning! So, Mr. Hawkeye, are you ready to see your new t-shirt!
HAWKEYE
You bet I am!
FOGGY NELSON
Now that is what we like to hear! Alright boys, bring it out!
After Foggy finishes talking 2 guys are seen coming out of a adjacent room holding 1 t-shirt. When they get to the center of the room they hold up to make sure that Hawkeye can see it. All it is is a purple shirt with a darker purple bullseye in the middle.
MATT MURDOCK
Well, do you like it?
HAWKEYE
I don't hate it but, it's kind of bland, isn't it?
MATT MURDOCK
What would you want us to do with it instead? How could we make this any less, you?
HAWKEYE
Guess you got a point.
FOGGY NELSON
Well that's enough being down! How bout we talk about your cut now.
HAWKEYE
Now we're talking, "Show me the money."
They all laugh, Hawkeye for real and Foggy and Matt clearly not, as the get ready to talk about the financials.

FOGGY NELSON
So we were thinking, $300 up front for the line and..... that's it!
HAWKEYE
That's it?!? No cut of the profits once it starts selling?
MATT MURDOCK
We do not have the confidence this will sell well enough to make us back the money we spent, so we definitely aren't confident enough to give you any cut of these profits.
FOGGY NELSON
So, are you in?
The camera shows Hawkeye open his wallet and look at how empty it is. Couple cards, nothing in cash. He sighs and closes it while looking back up at the 2 men.
HAWKEYE
Alright, I'll do it. Just, can you pay me in $20's? I want to go grocery shopping later and I don't trust my card.
FOGGY NELSON
We can only give you up to a $100 in cash, is that alright?
HAWKEYE
That should be fine.
They wait for a little bit for a man enter who hands Hawkeye the 5 $20 bills. He then waits on his phone till he sees the other $200 appear in his bank account. Clint then exits the building and goes onto the street.
EXT/INT. STREET/SAL'S GROCERY STORE - MORNING
He see Hawkeye walking through the buys and bustling streets of the city until he reaches Sal's Grocery Store. He enters and is immediately said hi to by everyone who works there. He says hi back while walking into the back aisles. He picks up milk and Hot pockets for himself before going to get in line at the front of the store
INT. SAL'S GROCERY STORE LINE - CONTINUOUS
Hawkeye stands in line behind a WOMAN, age 45, and a SMALL CHILD, age 9, who have a cart full of food, mostly basic essentials. Meats, vegetables, milk, basic things you would need. The kid is bouncing around while waiting and just happens to turn around while doing so. His eyes widen as he sees Hawkeye and he then starts whispering to his mom. He shakes his head at one point before she lists her head away from his and turns back to Hawkeye.
WOMAN
Hi, Mr. Hawkeye, I don't mean to bother you but my mom is a fan of yours.
SMALL CHILD
The biggest fan!
WOMAN
Sorry, the biggest fan of yours.
HAWKEYE
Well I am always happy to meet a fan in public. Want me to sign anything buddy?
At this the kid pulls out a piece of paper he has. Clint opens it and sees the kid has ranked his top 10 favorite Hawkeye moments.
HAWKEYE
The Madame Masque fight is only at number 4, come on man!
SMALL CHILD
Sorry, I prefer your solo fights to ones you have help with.
HAWKEYE
You know what kid? I'll tell you a secret.
HAWKEYE
Whispering
So do I.
The small child giggles as Hawkeye finishes his signature. The mom and the kid finally get to the front of the line where the CASHIER, 20, begins bagging all their items. As the total goes up the mom just looks more and more concerned.
CASHIER
Your total is $65.27.
WOMAN
Oh, uh, I can't afford that. So, I guess I will pick and choose what items I don't really need.
HAWKEYE
Hey, let me take care of this.
WOMAN
Oh you don't have to do this, I don't even know why you would?
HAWKEYE
I'm a hero.
Hawkeye goes to the cashier and pays for the items. He wavs at the family as they walk out of the store as his items get scanned.
CASHIER
Your total will be $45.89.
HAWKEYE
Oh, wow, I need to use my card then.
He tries his card and it tells him it is denied. He tries again and again but it doesn't seem to work.
HAWKEYE
You know what, get rid of the hot pockets, I'll pay cash.
CASHIER
Is this food still for Lucky? Cause if so, his name certainly is right for him.
HAWKEYE
Yep, only the best for that dog.
Hawkeye pays with the cash he has left and then exits the store to the bus station around the corner.
INT. BUS - AFTERNOON
Hawkeye just sits and rides the bus until we get to the bridge. There is COUNT NEFARIA, 65 and powers like Superman, rise up from the smoke of a destroyed building. Suddenly a boom is heard as IRON MAN, red and yellow suit, flies past the bus and the bridge straight towards the Count. Seeing this Hawkeye rushes to get his stuff out of his bag. He puts his communicator in his ear first thing.
HAWKEYE
Call Tony.
While waiting for the call to complete Hawkeye starts to get his bow and costume out of his bag. His bow was compactable which allowed him to carry it around. Clint finally hears a connection noise as the call is made.
HAWKEYE
Just saw you fly by, can be there in like 15 minutes if I hurry.
IRON MAN
No need. Hulk, Thor, and Captain America were already here before I was and Black Widow will be here in 5. I think we got this one locked down Clint.
After Iron Man finishes talking we then hear a rush of air and multiple laser blasts.
HAWKEYE
You sure you don't need any help?
IRON MAN
Pretty positive.
Iron Man immediately hangs up after he stops leaving Clint mid change. He just sits back down and waves awkwardly at the other bus patrons.
INT. HAWKEYE'S APARTMENT - AFTERNOON
Hawkeye gets home from his excursion which excites Lucky. The dog immediately runs towards him allowing Hawkeye to pet him. After what is believed to be a satisfactory amount of time, Hawkeye leaves to go make himself some dinner. He opens his freezer and takes out the box of hot pockets in there. He dumps one out of the box only to realize it was the last one.
HAWKEYE
Really, out?
He then snaps his fingers as if remembering something.
HAWKEYE
That's why I needed them at the grocery store today. Oh well, guess I'm just going tomorrow then.
Hawkeye puts the hot pocket into the microwave and then waits on his phone for it to cook. Suddenly, sirens blare from outside his window which cause him to go look. The bank across the street is surrounded by cops. He looks at the microwave and then back at the bank.
HAWKEYE
This shouldn't take long, right?
Hawkeye rushes to get his costume on and grabs his bow and arrows as he rushes out of the apartment building and over the bank.
INT. BANK - EVENING
The cops wave Hawkeye through as he enters the bank. There are 3 robbers there, each with guns, shoving money into their sacks. When they see Hawkeye enter they raise their guns at him.
HAWKEYE
Woah, woah, fellas, no reason for this to get violent. I would much rather do this the easy way. See, I have a hot pocket in the microwave at ho-
As Hawkeye talks a gunshot is fired that just barely misses his head. He quickly ducks behind a nearby counter to protect himself.
HAWKEYE
Welp, looks like we have to do the hard way.
There is a montage of Hawkeye firing all sorts of trick arrows to take these guys down. Using gas to confuse them and then tripwires to trip them, using putty to try and stick them, even a couple normal arrows as warning shots to try and make them stand down. Eventually he finishes the fight and walks up to the 3 guys, now all tied together by one tripwire.
HAWKEYE
You know? None of this would have happened if you would of just listened to me guys. At least this passed the time while my hot pocket cooked, I mean, it's only been..... 10 MINUTES! Oh guys, I gotta go.
GOON 2
Aren't you gonna get this outta me first?
HAWKEYE
Get what out of........ Oh my god.
Hawkeye looks over and one of his "warning shot" arrows is sticking out of the 2nd robbers arm. He quickly goes over before stopping to almost throw up. Finally he reaches the man.
HAWKEYE
Oh, man, that is, that is really bad. God, wow, now I feel bad for complaining about the hot pocket, yowza. Let me just, take care of this for you.
Hawkeye rips the arrow out of the man's arm before applying a bit of cloth to stop the bleeding.
HAWKEYE
Can we get some paramedics in here!
A couple of guys come running in which allows Hawkeye to go back to his apartment.
INT. HAWKEYE'S APARTMENT - EVENING
Hawkeye enters back into his apartment, dumps his stuff, and then immediately goes over to the microwave. Inside, the hot pocket is cold and hard as rock. Then, the power cuts out leaving him unable to cook the sandwich any longer.
HAWKEYE
Are you kidding me! I thought this day was over being bad, but no!
Hawkeye's stomach grumbles as he holds the cold sandwich in his hands. He stares down at it with an intensity not seen before.
HAWKEYE
You've done worse things than this Clint, get it over with.
Hawkeye starts to eat the hot pocket, grimacing at every bite, but finishing it none the less. After the meal is down, the power comes back.
HAWKEYE
Oh, of course it happens now. Whatever, come on Lucky, let's watch some TV.
Hawkeye switches on the TV which starts on the news. There they are covering the Avengers fight that was had earlier today against Count Nefaria. Though it just happened and, at least in Hawkeye's mind, should be breaking news all the bank robbery stoppage gets his a line on the ticker. Seeing this enrages him and causes him to switch the channel. He lands on HGTV which he shrugs at and continues to watch. He sits there with Lucky eventually getting bored enough to go on his phone. He opens Instagram, then Twitter, then Facebook, then finally, out of ideas, he opens Tinder. First woman he sees it Patsy Walker, 31.
HAWKEYE
No, definitely not, seems like she has no soul behind those eyes.
Next up is Kate Bishop, 25.
HAWKEYE
EUGH, Kate's on here? That is a definite no way.
Next up is Bobbi Morse, 33. He scrolls through her profile, face lighting up at everything he sees.
HAWKEYE
This, is the perfect woman, which means she will never go out with me.
Taking this defeat Hawkeye puts the phone down and lays with his dog. Eventually he falls asleep on the couch before waking up to his alarm.
HAWKEYE
*Yawn* 8 AM already? Welp, time to get to work.
*FADE TO CREDITS*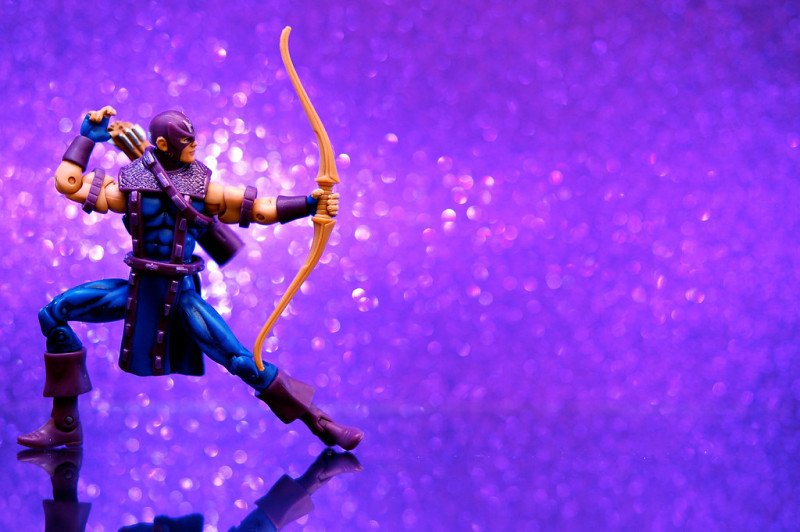 © Alec M., West Chester, Pennsylvania