(Choked With Tears) Why?
March 22, 2012
Kathy: Tall and skinny; blond-haired pulled pack in a ponytail. She's a nice girl, especially to Thomas, her boyfriend, and Lucinda, her best friend. She's a cheerleader, and thus active, but is also studious and receives high grades on her report card. Sixteen years old.

Thomas: Tall; light brown hair, crew cut. He's surprisingly strong for the way he looks. He tries to do the right thing, and almost always succeeds, but he tends to panic during stressful situations. He is in honors language arts and social studies, but is failing math. Sixteen years old.

Lucinda: Short; dark brown hair. She's sweet and kind - once you get to know her. She tends to be loud, and likes to speak her mind. Not particularly gifted at school or sports, but is quite a virtuoso. She plays the flute, piano and violin. Her best friend is Kathy. Sixteen years old.

Mark: Tall, muscularly built; closely shaven hair. He can be nice, but tends to be violent and acts quickly upon his emotions. He was involved in numerous violent outbreaks at school, particularly after he broke up with Kathy. His father owns a gun shop…

2 Medical Technicians

5 Police Officers

Setting:

The play takes place just outside of a school shortly after dismissal. Kathy, Thomas and Lucinda are standing together, talking.

KATHY
You'd never believe what happened in math.

LUCINDA
Really?

KATE
Yeah. Melissa was chewing gum. And Mr. Vallentino told her to spit it out.

LUCINDA
Uh huh.

KATE
But then Melissa said, "Spit your own d*** gum out!" Mr. V's face went, like, bright red and he started screaming! I swear I heard some curse words coming from him.

LUCINDA
Get out!

THOMAS walks up to the girls. They stop their discussion and turn around to greet him.

THOMAS
Hey, guys.

KATHY AND LUCINDA (Simultaneously)
Hey, Tom.

THOMAS
Did I interrupt anything?

LUCINDA
(Shakes her head) No. Kathy here was just telling me some ridiculous fable about
Mr. Vallentino.

KATHY
(Defensively) Hey, it all happened!

LUCINDA
(Smirks) Well then, what did Mr. V do after all that?

KATHY
First he called the principal down to our classroom. While he was waiting, he started yelling at her in front of the whole class. I guess, like, he was trying to embarrass her.

LUCINDA
(Nods slowly) I see. What did the principal do?

KATHY
Well, I'm not sure. (Pauses) I haven't seen Melissa since.

THOMAS
What'd she do?

KATHY
Oh, sorry. Mr. V told her to spit out her gum, and she told him to spit his "own d*** gum out!"

THOMAS
(Laughs) Wow, you ought to be pretty stupid to do that.

LUCINDA
(Chuckles) Well, that's Melissa for you.

THOMAS
What do you think she got?

LUCINDA
Could you get suspended for that?

KATHY
I doubt it.

THOMAS
Maybe detention. A lot of detention.

KATHY
Probably. That's anyone ever gets.

MARK approaches from behind them. His hand is jammed in his pocket. His eyes are red, like he'd been crying, and he is visibly distraught.

MARK
(Yells) Kathy!

KATHY turns around to see who called her. MARK lifts his hand out of his pocket, revealing a small handgun. He raises it quickly to KATHY's head.

MARK
Why? Why don't you love me? (Fires gun)

KATHY falls to the ground, blood pouring from her chest. MARK turns away and starts to run off, but THOMAS gives chase. LUCINDA drops to her knees and places her hands over the wound on KATHY's chest. Everyone else on the campus turns and stares. No one makes a move to help, but a few people scream.

THOMAS
(Choked with tears) D*** you! Get back here, you son of a b****!

LUCINDA
(Crying) Kathy! Oh, god! Please don't die. Please! (Turns towards the small crowd forming around them.) Well don't just stand there, d*** it! Do something!

A few people head off to seek help. Others call 911 on their phones. THOMAS tackles MARK.

THOMAS
Why the h*** did you do that!?!

MARK
(Smirks) She deserved it! (Sobs) She left me for (Screams) she left me for a loser like you.

THOMAS
(In hysterics now) So? There's other girls.

MARK slowly brings the gun to his own head.

MARK
But only one Kathy. (Fires the gun, killing himself instantly)

THOMAS
(Muffled) Why?

THOMAS gets up and returns to KATHY and LUCINDA.

LUCINDA
(Hysterically) I don't think she's breathing! (Screaming) She's dead! No! No! She's dead, d*** it! Why didn't you help me Thomas?

Sirens wail. Medical technicians approach with a stretcher, and police officers drag away LUCINDA, who continues to scream incomprehensibly. The crowd begins to back away.

LUCINDA
(Screaming hysterically) No! Get off of me! (Slaps an officer across the face) Let me go, d*** you!

Police officers, in exasperation, handcuff LUCINDA, who fights back, kicking and screaming. Eventually, she calms down and begins sobbing uncontrollably. Medical technicians load KATHY onto a stretcher and wheel her away. THOMAS walks off to the side and falls to his hands and knees, crying hysterically. The crowd completely disperses now. Few stragglers remain.

LUCINDA
(Hardly comprehensible) Is she okay?

POLICE OFFICER
(Shakes his head) I… I don't know. (His radio beeps. He picks it up and listens)

LUCINDA
What was that?

POLICE OFFICER
That was one of the EMTs. (Sighs) Your friend… she didn't make it.

LUCINDA launches into a crying fit as the lights fade. In the darkness, LUCINDA's sobbing continues for a few moments.

LUCINDA
(Choked with tears) Why?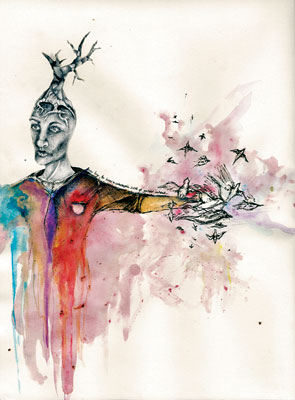 © Alice B., Sarasota, FL