Pruning
May 9, 2019
It was curiosity that finally convinced Katy and I to sneak into Mrs Heythorpe's house.
We waited until she was outside gardening. She was a strange old woman, always glaring at us when we walked past her house, or watching us through the gap between closed curtains from her room upstairs. All the local children knew the story of the three boys who went missing; the rumour was that she had kidnapped them and eaten them. But we were fourteen now, and we didn't believe that anymore.
The front door was locked, but Katy led me to the door at the side of the house, which was slightly ajar. We went in silently, making sure that the door was at the same angle as before.
To my surprise and disappointment, her kitchen seemed quite normal. Light flooded in through a huge window, through which we could see her watering her flowers. She was turned away, but still we crawled along the tiled floors so that she didn't spot us.
Once we were well past the window, we stood up again. Her kitchen was just like my own grandmother's: neat and tidy, but clearly home to an old woman fond of food. Giggling, Katy passed me a biscuit out of a tin on the table, and stowed away another one in her own pocket.
After we had examined everything in the kitchen, we went into the living room. Again, it seemed almost disappointingly average. Why had we bothered coming into a perfectly boring and regular house? It was all so usual. There was a couch, an old TV, several glass animals and some candles lining the windowsill. On the wall was a picture of three young children, sleeping on the couch.
Next, we found her bedroom upstairs. It was, yet again, just like any old lady's room. I was almost prepared to call her a normal old woman, until we found the last room.
On the wall was a case of scissors in ascending order, with the largest pair missing. Sheets of yellowed nespaper articles were scattered all over the floor, but I didn't bother trying to read the faded print. In the corner was a small, wooden box.
"Look at this!" Katy gasped.
It was full of tree roots. I couldn't see anything unusual in it at all for a moment. Then I thought I was going to throw up.
Among the tree branches were six fingers. Six human fingers, lying limply between the tree branches. At the bottom of the box was a photo; it was the same three boys as the picture in the living room, this time crying and with bandaged fists.
We looked out of the window to see her pruning her trees with a large pair of scissors.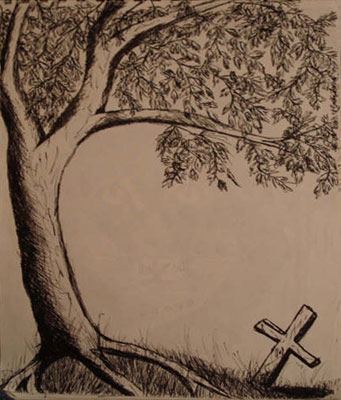 © Courtney K., Bethel Park, PA