102 Foxrow Drive
March 25, 2021
102 Foxrow drive. I punch the number into my GPS and wait for it to load. When I hear the robotic voice telling me to take a left turn, I start my Subaru Outback and buckle my seat belt. I back out of the driveway onto the main road. There aren't many cars around here because 1) I live in a half-abandoned town and 2) it's a Monday afternoon and most people are at work or school. I decided to not go to school because I had something important I needed to ask my brother.
Twenty minutes later I pull up to a house with a yard overgrown with weeds that reach my waist. Wildflowers of all shades are sprinkled across the green. A rotting, wooden fence surrounds the outside area. The house near a large cluster of prickly bushes captures my attention. Vines have grown up the grey walls, making it look like a waterfall of greens and browns. My brother can't live here. The house looks like no living thing has taken one step inside for years. I don't see my brother's car here either, so I must be at the wrong place.
I glance down at my GPS but the small screen is black except for two words in an off-colored white. No Connection. I sigh, looking back up at the house and I feel an abnormal pull to explore it. Turning the car off, I unbuckle my seatbelt, shove my keychain into my pocket and open the car door. When I step out onto the dirt, a warm spring breeze greets me.
I take a deep breath and walk towards the front door of the house. I'm halfway there when I spot another building to the right side of me through a rat's nest of vines. The building is also covered in vines to match the house. An old rusty shovel is stabbed into the ground, I could have sworn that I saw the shovel move backward slightly as if some unknown force moved it. I assume this was once a shed but I don't dare go check it out since it seems like it will collapse at any moment.
I continue on my way to the door and reach the front step, or what's left of it. The door's wooden with a coat of peeling white paint. I feel like I should knock, just in case someone does live here, although it seems very unlikely. I raise my fist and rap my knuckles three times on the door. I wait there for a few moments. Nothing. Before opening the door I look behind me, the hairs on my arms are standing up. I'm getting a feeling that something or someone is watching me. After scanning everywhere, I can't see anything so I turn back to the door and try the doorknob, testing to see if it's unlocked.
The door swings open, creaking on its way. The sun spills around my body, allowing me to see what was left of the living room. I step in, looking around. On the left side of me, bare shelves line the wall. Scattered on the floor are boxes filled with books, photos, and papers. It seems as if whoever lived here was trying to move away in a hurry. They never got to leave. The thought drifts into my head from nowhere.
On the wall across from me are two doors. One of them is open so I walk over and look inside. It's a kitchen. Not very big, but large enough to fit an oil-powered stove, small counter, and a refrigerator. Besides the refrigerator is a door, I turn the knob and it opens revealing a pantry. The only thing on the shelves is a four-pound bag of rice, two jugs of water, and an old, rotting orange. I shut the door quickly, sealing in the putrid scent.
Moving out of the kitchen, I went back to the living room. I open the next door, an old musty smell drifts out of the room. Old wooden planks lead downward, acting as stairs. This must be the basement. I shut the door. I am so not going in there.
Yes, you are.
The words drift into my mind, they keep swirling around, as if on repeat. I try to block the words from my mind but whatever supernatural power is doing this, it's too strong. Again I get the feeling that I'm being watched. I look around me and I don't see anything. Turning back to the door, I open it again. The musty smell drifts up to my nostrils again. I take slow cautious steps down the stairs, each plank groaning under my weight. I reach the bottom, my feet hitting the concrete floor. It's very dark down here and I can just make out a silhouette of a flashlight hanging from a nail on the wall.
I grab the small flashlight and click the switch, praying it works. A beam of yellow light flickers into the darkness, and I wave it around the room. As the beam makes its way around, two eyes glitter in the darkness at me.
My heart stutters a few beats, eyes widening with terror. A scream bursts out of me as I run back up the stairs. I almost trip over myself as I race up the wooden planks, unable to think of anything except getting away from that thing. Before I make it out the door, a faint, hoarse voice calls out to me.
"Please help me!" I pause, thinking. Then he speaks again.
"I'm hungry and thirsty! I haven't eaten in three weeks!"
I hesitate for a moment before saying, "W-what? Why? Why do you need my help? How come you can't get food for yourself and why are you down here?!" I call out from behind the thin plaster wall, heart pounding wildly.
"Because I'm chained to the wall. If you pull the top floor bored up then you will find a key that will unlock my chains."
"Why should I help you?" I reply "How do I know that you're not trying to hurt me? Why are you down here in the first place?"
"I'm down here because I made a very bad mistake to come to this old dump. Now, are you going to get the key or not?"
I can't let this person die down here, what if it's my brother? I step down to the second board and use both my hands to pry up the top board. It comes up easier than I thought and it flings up hitting the wall. I ignore the board and shine the flashlight down. Another board is lying down and a key is on top of it. I grab the key and run down the stairs. Shining the light in the direction where I saw the eyes, I toss the key towards the man.
I hear a frantic scrambling and the sound of a chain rattling, then dropping to the floor. A man stands up in the light. He's very skinny and looks around thirty years old, faded clothes hang off his stick-like frame. The man lurches closer to me, I can tell he's excited over something by the large grin on his face.
I'm not your brother.
The words drift into my mind. Pain flares in my head, lasting seconds, then it's gone.
"Thank you. You're a kind person, but sadly I'm not."
The man grins at me, showing rotted teeth. He takes a few steps closer to me, and I move farther away until my back hits the wall.
"Wh-what are you doing?"
The man just grins even wider and runs up the stairs, grabbing my wrist. I drop the flashlight, struggling to break free from his iron grip, but he just grabs tighter, dragging me further and further away from the light. I scream knowing that no one can hear me, there's not another house around here for another mile. The man bends down grabbing the chain, he takes my hands and clicks to metal bands on my wrists. I scream and cry begging for him to release me. He just keeps smiling sadistically at me. The man walks over to a shelf on the wall and grabs a slice of bread from a bag.
"You hungry? Well, come get it."
The man walks across the room and sets the piece of bread down on the floor. I stay where I am keeping my eyes trained at the ground. The man shrugs and says in my head,
You'll want it later if you can reach it.
The man laughs in my head. The sound is so loud that it makes me moan in pain. I make the mistake of taking my eyes off the man and he sends a strong kick to my stomach. And another one. And the last one makes me start to drift away to unconsciousness, but before I do I see a translucent figure appear in my vision. It's my brother. I can see his mouth moving, I think that he knows I can't hear him because I see my brother take a large breath, and as he lets it out, he starts saying;
You were supposed to go to 103 Foxrow Drive.
After he says the words he slowly fades away while I sit there panicked and confused as ever while drifting into the black hole that envelops me into a deep sleep.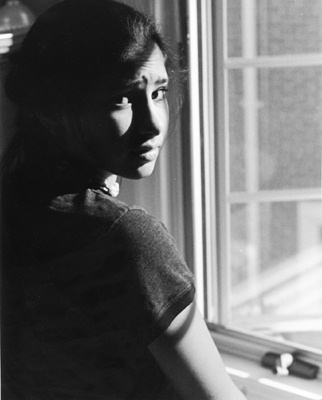 © Jennifer H., Bethesda, MD