The Ring
September 23, 2009
"I'll never let you go, I just love you so!" I smiled, singing as I cooked dinner. Everything couldn't be better. I've got a delicious turkey, mashed potatoes drowned in gravy, and bright purple cranberry sauce. Opening the refrigerator I peered inside.
"I'll love you to the very end. You'll be there, my forever friend!" I sang, loud and cheerfully. I twirled around and began to dance. Until I saw that James was there.
"Oh!" I cried out in surprise. James didn't smile. Blushing, I closed the refrigerator door.
"What's the matter, James?" I said as I kissed him on the cheek. James motioned for me to sit down. I could tell that this was serious and took a seat. Leaning forward I asked him,
"Come on, tell me the secret. We've known each other long enough, have we not?" James shook his head and looked down. Quizzically I looked into his eyes. His deep blue, luxurious eyes; eyes that I've wanted for so long. For too long.
"It's Eliza. She…she was found. In the forest." James said, his voice shaking uncontrollably. It was the day after the proposal when Eliza had disappeared. She had gone on her usual night walk. Everything had gone so well. James and Eliza had gotten engaged! James had gotten her the most beautiful ring. A marvelous blue diamond, clear as the blue sky, had been placed on her finger. This was the happiest day of their lives! Then Eliza and the ring never came back. Ever since then, I've been spending more time with James, hoping…
We looked for her, for a week straight. We never found her. With James crying on my shoulder, he accepted that she was gone. Now, Thanksgiving, this had to happen. I was furious! Why did they have to find her? For god's sake, it's Thanksgiving! Quickly putting the anger away, I let the long awaited sadness wave through me. Taking James's hand into mine, I whispered,
"I'm so sorry, James. I really, truly am." I started to rub his hand, trying to be a good person. But really, what was I supposed to do in this kind of situation? I looked deep into his eyes and watched them widen.
"James, what's wrong?" I asked. James just stared at my hand in horror. Quickly letting go of my hand, he stood up.
"You…you have the ring!" James cried in terror. I smiled.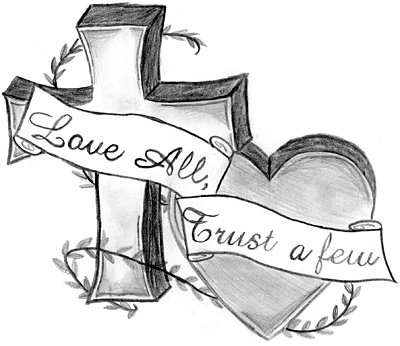 © Gina W., Glen Gardner, NJ