Breathe
October 27, 2009
I got up off the couch and laughed with fear.
"Not so excited about tomorrow anymore, Sah?" My best friend Jase asked me.
"Err, well yes and no..." I replied nervously. Jase and I had just finished watching a thriller movie, and far out it was scary! It was about this girl who was turning eight-teen, and when it was 1 am on the 1st of December (the exact time she was born) she drowned at her birthday party! It wasn't exactly the movie that scared me more that, one, I was also born on the 1st of December at 1 am, and two, when I was five, I nearly drowned and died!
"What do you mean, yes and no?" Jase asked, I turned around and sat back down on the two seat couch and crossed my legs.
"Well, I'm excited about tomorrow; I get to spend it with you and Hayley!" I said quietly,
"Oh, No you aren't you?!" Jase asked me and I looked into his blue eyes,
"What?" I asked
"Scared that it'll happen again?" Jase said,
"It was scary!" I said stubbornly
"Yes and it happened over thirteen years ago, and you can swim now!" Jase said, and he was right, it'd been thirteen years and it was only a movie. Plus I had learnt how to swim two years ago so it wasn't like I could drown now.
"Hey come with me!" Jase said and he grabbed my arm and walked quickly out onto the porch.
It seemed like the beautiful sunset was painted just for us, that the pink, blue and purple colours which stretched out across the sky had magically appeared just for me and Jase! Jase put his arm around my shoulders and not taking my eyes off the sunset rested my head against his shoulder.
I looked at Jase and his blue eyes gazed down on me, my green eyes met his and we smiled at each other, but not for too long, we both knew that sunsets never last long, and with one like this we had to make the most of it!
I grabbed Jase's arm and started to run back inside,
"What are you doing?" asked Jase
"Just come on, hurry!" I said and ran out of my bedroom door, down the stairs and hall and out of the front door. Mum was asleep and dad was at work, he has night shifts!
Now in the front yard I started to run down the garden path and jumped the fence, what can I say, I can't count how many times I have jumped that fence, but with a grunting noise from behind me I could count how many times Jase had on one hand, one!
"Come on!" I said and hand in hand we ran down the side of my house to the beach.
Our house had its back to the ocean but my bedroom porch and the living room and dining room all faced the beach. Running it took me and Jase less than a minute I slowed down as I reached the sand.
I looked at Jase and he smiled. This time he took the lead and we walked to the water. We looked up at the sun set, such beauty cannot be described in words, it's simply amazing yet too amazing to describe!
It's like Jase to ruin such a perfect moment or maybe in ruining it he was making it even more perfect. He swept me off my feet into his arms and ran into the ocean spinning around.
My mouth opened with laughter and put my head back!
Our laughter echoed in the night! Jase stopped and I put my arms around his neck. We weren't together, but being in Jase's arms felt so unbelievably right! Looking into each other's eyes, our smiles dropped slightly. I moved my head closer to his until my nose touched his. He smelt tangy, sweet. I moved my hands from the back of his neck to his caramel blonde hair, and breathed in moving our heads slightly till our lips met-
"OI!" Somebody shouted and looking at us, I moved my head around Jase's and saw Mrs Mac, the 87 year old gnome collector who lives next door to us, "Go somewhere else if that's what you're thinking!" Mrs Mac shouted. I jumped down out of Jase's arms and laughed quietly.
I screamed, and then shivered as a huge wave finished soaking me! Jase laughed and I splashed him and then ran in the water, I tripped and he came tumbling under the waves with me. He smiled and waved at me and I laughed...I couldn't help it, but that laugh meant that water got into my lungs...and I couldn't breathe!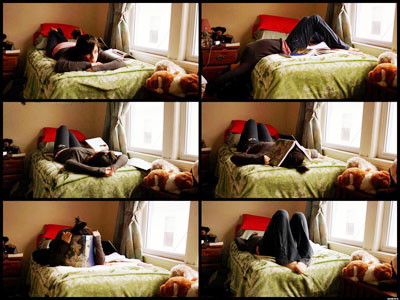 © Ana D., Worcester, MA