My Boyfriend's Death
November 23, 2009
It was May 29, 1998, my fifteenth birthday. My boyfriend and I had gone far out into the woods to have some alone time. After our romantic interlude, the car wouldn't start for anything; all you would hear when you turned the key was a click. I was petrified. Right after we discovered that the car wouldn't start, my boyfriend said he would walk for help, but before he did, he proposed. He told me, "Whatever happens, I want to live a long life with you." He told me to get down on the floorboards and put a blanket over me, so no one would look in and see me. He said, "No matter what, don't get out of the car. I'll be back soon. I love you." Then he walked off, leaving me hidden, and for all I knew, forgotten.
He didn't return and didn't return, and I soon heard a constant tap-tap-tap on top of the car. I remained in the car, remembering what my boyfriend had said. I simply lay there waiting for my fiancé to return to take me in his arms once again. Despite my growing fear, I knew he would come back, so again I sat there and sat there and sat there.
The entire night passed with me eating leftover popcorn and drinking stale soda, and I still had not heard from my boyfriend. He had taken his cell in case he actually had to call his parents, confess what we were up to, and suffer the consequences. Sitting alone for hours, I decided that he didn't love me; he had said he would take me in his arms again, and instead, he ran. As I dealt with my despair, it grew light outside, and I heard someone walking up to the car. A man's voice called out: "Is anyone in there?" This voice wasn't my baby's voice. It was someone else who was about to touch my boyfriend's new car.
It was the local sheriff. I peeked out, and he told me to get out of the car, walk down the road to the waiting sheriff's car, and whatever I did, to not to look back at that car! I walked down the road to the sheriff's car, but as I did, I looked back at the car at the last minute and saw my boyfriend hanging upside down from a tree overhead, his throat slit, and his fingernails dragging across the top of the car. Blood was EVERYWHERE. That explained the tap-tap-tap noise on top of the car that had tripped me out. The policeman told me that a maniac named "The Hook" had escaped from the asylum near the woods where we had parked. I had a heart attack on the spot.

My recovery was marked by bouts of depression, so I was treated both physically and mentally. I have often thought of death, but I have stabilized. Most of the people here are very kind. Here comes one now. Wait, what's that? A hook dangling from under his scrubs.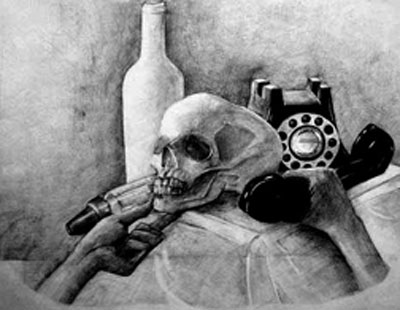 © Xiao H., Naperville, IL